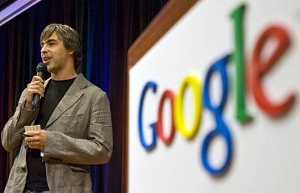 Some would say it feels like it only happened yesterday and some would say it feels like eternity- One year has passed since Larry Page took over the lead as Google's CEO, trying to steer the ship of the largest internet company in the world (yes, Google is still the largest internet-based company).
In fact, it isn't the first term of Page as CEO. Since the company was founded in 1998 and until 2001 Page was co-running it alongside his long time founder Sergey Brin. In 2001 they have decided to appoint the "responsible adult" Eric Schmidt as the CEO (back then Page was only 28 years old). In 2011, Page felt mature enough and ready to sit, once again, in the CEO chair.
To note his one year on the job (for the second term) and to express his future vision of the company, Larry Page has addressed couple of days ago the company's investors (well, and the rest of the world) with a 2012 update letter.
The letter itself is very long (more than 3,500 words) and it is covering many aspects from Google's past, present and future. Google known to love statistics and numbers, so I thought it will be a good idea to summarize this letter by its numbers. Here's my review of Page's 2012 update letter by the numbers:
Decade-Plus (13.5 Years)- The number of years Google operates as a company.
30 Products- All products Google has shut down since Page took office in three rounds: In September 2011, in November 2011 and in January 2012.
1,000 Flowers- How Sergey Brin refers to Google+: "We've let a thousand flowers bloom; now we want to put together a coherent bouquet."
120 Integrations- Integrations of Google+ with other company's products (including with the search engine).
(Over) 100,000,000 users- Google+ active users. Note that Page probably relates to it as Vic Gundotra related to it in March, as active users to Google+ ENHANCED products.
(Over) 1,000,000 Followers- Some people's amount of Google+ followers.
10 Blue Links- The current way of providing search results. Google intends to progress to a new way of providing answers directly on the results page by using "Semantic Search".
(Over) 100 Phones- Trying to build Google's mobile OS for more than 100 phones individually in 2004, before Android came along.
850,000 Devices- Mobile devices activated on a daily basis using Android today.
55 Manufacturers- Network of mobile manufacturers operates Android today.
300 Carriers- Operates Android today.
200,000,000 Users- The number of people using Chrome web browser.
350,000,000 Users- The number of people using Gmail.
5,000 Sign Ups- New businesses and educational establishments that signs up for Gmail every day.
800,000,000 Monthly Users- YouTube's monthly users that uploading more than a hour of video on each second.
$2,500,000,000- The company's revenue from mobile advertising in the third quarter of 2011.
2.5 Times More- The quarterly growth of mobile advertising from two years ago.
2-Step Verification- The new (optional) system to ensure the security of users' accounts.
(Over) 1,000,000 Businesses- Businesses that uses Google's advertising products.
$30,000,000,000- How much Google paid to AdSense publishers since the program was launched in 2003.
More Than 2x- YouTube partners ad revenue growth for the fourth consecutive year.
64 Languages- The number of languages Google Translate supports which makes up 4,032 of translated language pairs.
200,000 Miles- The distance Google's self-driving cars have driven so far.