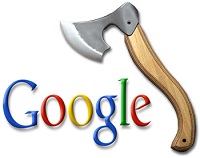 You can say what you like about Google, but whenever it comes for unsuccessful products, they swing the axe without any sentiments… And so, yesterday the company posted another list of six products that will be shut down completely or integrated into other products later on this year.
This is the fourth time Google announcing on "cleaning house" since Larry Page took the CEO chair in April last year- In September 2011 the company had its first "fall spring clean" for 10 products, in October it retired 5 more products and in November, 7 more products had a similar fate.
For Google, it is a step for more efficiency by focusing on lesser products while trying to develop new ones. My guess is that Google will allocate its resources mainly to its social networking service, Google+, which the company is betting on all-in and to the fast growing mobile industry.
At any case, here are the products and their fate:
Google Message Continuity (GMC)- Google doesn't really have a need for it since there are many similar Google Apps products. It will be closed for new sign-ups effective immediately, current clients will be able to use it until their end of their contracts.
Google Sky Map- The app will continue to operate as an open-source software and mostly going to develop as a student projects.
Needlebase- The data management platform will be shut down on June 1st 2012 and the company is considering if to integrate it into other products.
Picnik- The photo editor product will be shut down completely on April 19th and currently its premium service is free for all (paying members will receive a refund).
Social Graph API- Although it is probably going to be integrated into Google+ this way or another, it will be closed from April 20th.
Urchin- The product that Google Analytics has been based on for few years (and barely in recent years) will stop accepting new clients from March.