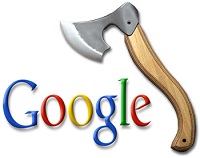 Google continues to dump unsuccessful products that didn't bloom as the company expected and after the "fall spring clean" in the beginning of September, Google is soon shutting down a bunch of other low demand products in an effort to be more efficient and focused.
In an official blog post, Google stated that it will close products with low impact and will integrate others into other more successful products. Since Larry Page became CEO, we can see a clear general strategy of focusing on smaller amount of products, while shutting down many that didn't grown and adopted by a large audience.
Among the "victims" this time, we can find one of Google's old and firsts unsuccessful social experiences, Google Wave, and also Knol, which intended to compete with Wikipedia back in 2007 but soon enough became a big spam article directory that attracted mostly internet marketers. Here is the full list of casualties and their destiny:
Bookmarks Lists- The social bookmarking experimental product of Google is going to be shut down on December 19th.
Friend Connect- Another social feature that allowed bloggers to create their own community will be shut down on March 1st 2012. Google recommend switching to Google+ for social features.
Gears- This service already worked only partially after disabling its browser extension in March and in December it will stop working completely.
Search Timeline- The service that provided historical search queries overview will be shut down effective immediately. Instead, Google referring users to Trends or Insights.
Wave- In a two steps process, Google will shut down the social service- In January 31st 2012 it will become just as read only service and from April 30th it will be shut down completely.
Knol- The article directory which launched in 2007 and eventually contributed almost only to SEOs will no longer be viewable from May 1st (but users can still download their articles) and from October 1st it will be entirely closed.
RE<C- The green initiative already been closed (its results are still available) as Google focusing on other green researches.
Over the last year Google became like a good "Sopranos" season- Always unpredicted, everything can happened and main characters dies as new ones are taking their place. What will be in the next episode? Only Google's team of "writers" probably knows…