It's been slightly over a month since the January top web brands report and now it is the time to review again which were the top most popular web properties in the U.S. (by unique visitors) for February 2012, through the recent report of comScore.
February's changes was characterized and shaped by two major events which had an impact on which websites visitors were shifting towards- The Super Bowl and Valentine's Day. The total amount of unique visitors didn't changed from the month before and remained at 220 million.
Here are the top 50 U.S. web brands for February 2012: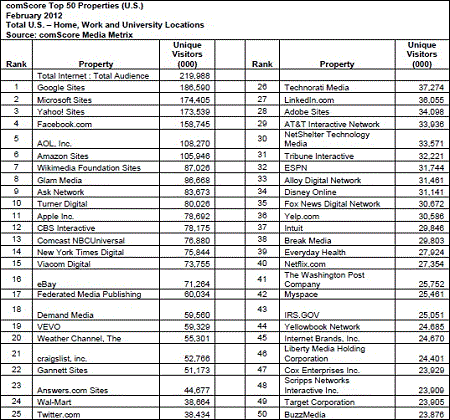 The Top 10 Web Brands Changes
Interestingly enough, all of the top 10 web brands except for AOL, have lost some visitors compared to January. The leading four web brands kept their prior month positions: Google sites (-0.4% unique visitors compared to January), Microsoft sites (-2.7%), Yahoo sites (-2.1%) and Facebook (-2.9%).
The rest of the top 10 web brands positions have changed a bit: AOL network (+1.1%) climbed on place to fifth on the expense of Amazon sites (-3.7%), which now sixth. Wikimedia Sites jumped two places to seventh (-1.7%), Glam Media (-4.7%) remained at eighth, Ask Network (-11%) dropped two places to ninth and Turner Digital (-4.8%) is tenth.
The Super Bowl and Valentine's Day Effects
Where the Super Bowl is much more than a sporting event, it has a great impact on the online world. Super Bowl's advertisers (mostly auto makers) benefited from a great increase in visitors: Hyundai Kia Group (+51%), Honda (+42%), GoDaddy (+37%), Toyota (+20%), Chrysler (+17%) and General Motors (+6%).
Due to Valentine's Day, many flowers, gifts and greetings sites enjoyed from a huge visitors rise. Here are the most prominent ones: ProFlowers (+394%), FTD (+204%), 1-800-Flowers (+103%), SomeEcards (85%), Kay Jewelers (+50%), MyFunCards (42%), AG Interactive (37%) and 123Greetings (+32%).
Biggest Gainers Among The Top 250 Web Brands
Healthline almost doubled (+97%) its number of unique visitors in February, followed by the IRS site (+54%) which demonstrated a second consecutive month of enormous growth. Pinterest, that may encountered some problems recently, has shown no signs of slowing down with additional 52% jump in unique visitors.
Here are the 10 most growing web brands among the top 250 for February 2012: