comScore has released its monthly top 50 U.S. web properties report for the first month of 2012, January. This month has been characterized with the rising of job and education sites and a drop of retail sites to their "normal" place after their big momentum during the holiday season in December.
Overall, although that the total number of internet users in January (220.2 million) remained more or less the same as the month before (220.4 million), the report is pointing out that the average American internet user is more engaged online than ever, spending an all time record of 36 hours online.
Here are the top 50 web brands for January 2012: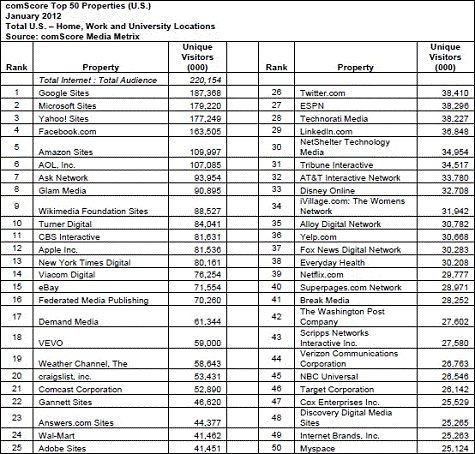 The Top 10 Remains Almost Unchanged
There weren't any significant rankings movements across the top 10 web brands except for Turner Digital (dropped to 10th) and Wikimedia Foundation (climb to 9th) that switched places, due to 6.6% visitors increase of Wikipedia. All other top 10 web brands kept their prior placements.
Notable top 10 traffic changes: Microsoft sites at the second place managed to narrow the gap from Google sites after 1.1% visitors increase. Amazon's visits dropped by 4.1% after the peak during busy shopping season in December. Ask network attracted 5.4% more visitors than the month before.
The Rise Of Job and Education Sites
The last time I covered the top U.S. employment sites was in September 2011 and since then, many rankings changes occurred among them. Indeed (that celebrated its 7th anniversary few months ago) is now ranked as the most visited job site (13.7 million visits, +33% monthly), CareerBuilder is second (9.8 million visits, +27% monthly), Monster is third (5 million visits, +28% monthly) and SimplyHired is fourth (3.5 million visits, +42%).
Disclosure: SimplyHired is powering Working Home Guide Job Board.
Education (including training) sites also gained significantly in January. The U.S. Department of Education site, ED.gov, produced a visitors jump of 76% to 9.2 million, LiveCareer blew up with 58% monthly visitors increase to 1.2 million, AesopOnline rose by 44% to 940K visits, FastWeb grew by 30% to 736K and Learn4Good had nearly 600K monthly visitors.
Top Monthly Jumpers
The governmental tax site, IRS.gov, generated the biggest jump of 222% this month as many American turned to it for some tax refund. Pinterest had another incredible month with 56% growth in visits and the travel site, Travelocity, had 43% traffic increase. Here are the top 10 biggest jumpers of January 2012: