As an employment website owner myself (although targeted towards home employment) i can only admire and give credit to other employment resources online that manage climbing to the top. Who are they and how people engage with them?
According to a report by comScore, these are the top employment websites online and how people engage with them (by average minutes per visitor):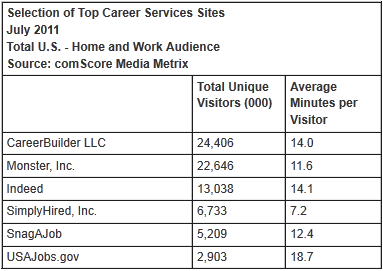 There are two dominant players at the field right now- CareerBuilder with a 24.4 million unique monthly visitors have about 8% advantage over the second, Monster with 22.6 million unique monthly visitors. I wouldn't call it a small gap, but it surely can turn over fast.
Indeed is third with 13 million unique monthly visitors, Far 42% from Monster and 46% from CareerBuilder- Very big gap that will be difficult to close. Smaller employment resources are SimplyHired with 6.7 million unique monthly visitors, SnagAJob 5.2 million and the surprising entry USAJobs.gov which provides federal government jobs with 2.9 million unique monthly visitors.
Engagement (Average Minutes Per Visit)
The engagement story is much more different and competitive. Here are the rankings by engagement (minutes per visit):
1.  USAJobs.gov (18.7)
2.  Indeed (14.1)
3.  CareerBuilder (14)
4.  SnagAJob (12.4)
5.  Monster (11.6)
6.  SimplyHired (7.2)
Again, USAJobs.gov is the surprise with the highest level of users engagement, Far 32.6% from the second and 160% more than the last! I don't know how much more can USAJobs.gov advance (after all, its federal jobs only), but it certainly present impressive stats.
Final Thought
Instead of just envy these employment sites, i recommend teaming up with them (and envy)- Most of them have an affiliate program and even job site builder. I teamed up with SimplyHired in my job board and so far I'm very satisfied. You can learn more how to do it in How To Create a Job Website.