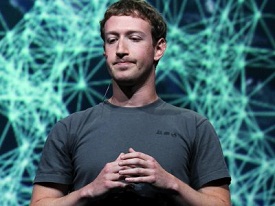 I have to admit that Facebook IPO filing was an incredibly enjoyable experience for me. Not just because it is an historical event (i hope you understand that not every day $75-$100 billion tech company is going public) but also because i just love to browse through these "boring" financial documents…
And so, after covering the most important issues earlier, i had the time to go over some more topics from the documents and i revealed more interesting disclosing statements under the Risk Factors section. This section is basically expressing all of Mark Zuckerberg's social network biggest fears and concerns.
As part of being a public company, Facebook has to disclose all the risks the company is standing against, so the potential investors would know exactly what are they deciding to get into (or not). From my own experience (i have financial advising background), this is the section investors are mostly ignoring because they don't want to think negatively (and also because this section is long and perceived as boring).
Therefore, for your convenience, i have decided to summarize it up for your and bring you a (relatively) brief review about Facebook's biggest fears and concerns:
User Base and Level Of User's Engagement
Eventually, this is the most important thing. If you don't attract new users or manage to keep the existing one, not any sophisticated business model will help you. Additionally, the level of user's engagement with the site's content is crucial- The more engaging the users are, the more the company can potentially grow and earn.
Facebook has elaborated a bunch of reasons that can affect the user base and level of user's engagement: Quality of products, commercial-user content balance, legislation limitations, technicalities, new policies, costumer service and platform.
Mobile Non-Monetization and Functionality
Currently, more than half of Facebook users (425 million) are mobile users. Although it has been rumored that Facebook will launch mobile ads in the near future, this market is at the moment completely non-monetized as Facebook is earning almost all of its revenue through desktop computer users.
With further rise of mobile users on the expense of desktop users, it can damage the company financially. Facebook also concerned from mobile operating systems changes (which aren't in Facebook hands) that can affect the social network proper functionality.
Monetizing The Platform
Facebook has experienced lately with many new ways of revenue earning such as ads in the News Feed and new currency offers for developers. It is possible that these ways or others that will be launched in the future won't be successful and the company won't fulfill its earning potential.
Competition
One of the main risks in any industry are the competitors. Facebook are recognizing their competitors (Google, Microsoft and Twitter) while mentioning especially Google+ as their main rival and other local social networks in specific countries (Cyworld in Korea, Mixi in Japan).
Facebook also concerned that their competitors will use other markets they dominates like search engines (anybody mentioned Search Plus Your World?), web browsers and mobile, to reinforce their own products over Facebook's.
Local Governmental Restrictions
Governments in specific countries might censor partially or fully Facebook contents due to local legislation limitations/restrictions. For example Facebook is currently restricted in countries like China, Iran, North Korea and Syria. Twitter has took an active approach relating this matter and began country-based censorship (hopefully Facebook won't follow it).
Facebook-Integrated Websites
The company is supporting the developers community that building apps/tools/sites which may draw visitors out from Facebook's site into their own. Simple math- Less visitors in Facebook's site means less money.
New Products or Changes to Existing Ones
Facebook's user base and revenue is relying almost completely on the company's ability to launch new successful products and to improve existing ones. The company also depends on the ability of developers and third party companies to do so.
Long-Term Decision Prioritization
The company isn't thinking about the short-term financial results when developing and launching new products. Unexpected long-term user behavior engaging with the products may result decline in expected earnings.
The Brand
If the Facebook brand reputation will be damaged, it might affect negatively the ability to attract new users and to obtain existing ones. Mainly users private information issues such as new policies, technicalities or third-party improper use may affect the brand reputation. It is also worth mentioning negative media coverage as something that affect negatively the brand.
Difficulty To Predict Financial Results
Because the company is so young and just until now was privately held makes it difficult to forecast the company's future earnings and they may fluctuate volatile from quarter to quarter.
Zynga Generates 12% of the Revenue
The social games creator, Zynga, is currently generating 12% of Facebook's revenue. This share shouldn't be hold cheap and makes the company somewhat dependable on the relationship with Zynga and as well on the ability of the social games company to deliver successful games.
Predicted Decline In Growth Rate
Facebook incredible growth rate in either new users and revenue will gradually decline over time. This might affect the perception of the business by investors and the stock price might drop.
Legal Issues
The company is EXPECTING to be subject for regulatory inquiries regarding data, security, privacy, patent lawsuits, class action lawsuits, intellectual property rights and more. That may result practice changes and money compensations. The company also expects to pay substantial funds as taxes.
Mark Zuckerberg Is a Major Stockholder
Mark Zuckerberg which holds about 28% of the company, is the Chairman and CEO which grants him tremendous amount of power over the company's decision making.
Additional Financing Might Be Required In The Future
If the company might need additional funds (which will certainly happen) it might go back again after the IPO for another public offering. That will lead to a dilution in stock's price. Additionally, the company is planning to make (more) acquisitions which might also result dilution.
Quicker Costs Growth Rate Than Revenue Growth Rate
It is more than possible that Facebook's yearly costs growth rate will grow faster than the revenue growth rate which will cause a decline in the company's profitability.
Effectively Managing The Company's Employee Growth
Facebook is hiring more and more (and more) employees and it is expected to continue doing so. Facebook are stating that they MAY NOT manage to deal with such organization growth effectively. Also, it might be hard to retain many key employees (specifically mentioning Mark Zuckerberg and Sheryl Sandberg) and hire highly qualified personnel in the future.
Online Attacks
As an online business, Facebook is exposed to attacks of hackers, Malware, viruses, phishing, spamming and more that could harm the social network functionality and reputation which might damage the ability to attract new users and retain existing ones.
International Expansion
The company is expecting to grow furthermore abroad beyond the United States. Each country has its own unique characteristics regarding the political, social and economic environment which makes it difficult for a company with limited global experience to market and deploy its products and services.
Update (3.8.2012)- Facebook submitted an amended of its S-1 form which also contains changes in the Risk Factors section. Find out what has changed in our revision overview.