As Facebook confirmed last month, in the last couple of days ads began appearing inside the social network users news feed. However, unlike what has been reported few weeks ago, the ads won't be labeled as "Sponsored" but as "Featured". Here's how it suppose to appear: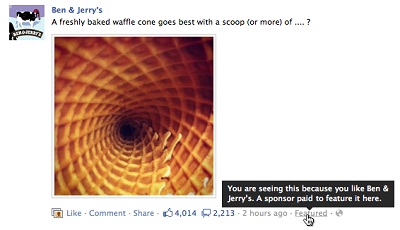 The users will see in their news feed Featured ads, only from people or pages they are connected to and for "most" users only one ad for day will appear, unless they check their news feed "a lot" (Facebook words, not mine) where in that case more ads might be shown in their news feed.
Facebook already run ads in the news feed between 2006 to 2009, but it is the first time they are implemented in their current form and appearance (which i have a few problems with, see next). At this point in time, ads will only appear in the regular website and not in the mobile website.
Ads Appearance and Problematic Issues
The ads will look like just as any other post with a slight different- Whenever hovering over the ad, it will be marked as "Featured" at its bottom right corner (and not "Sponsored" as previously reported). I think that the ads appearance have two ethical problems:
There is a big perceptual difference between the words "Sponsored" and "Featured"- The first is a clear indicating on an advertisement (as it should) while the second isn't at all.
Only when the user is hovering over the post, he would know that it is in fact Featured and until then it would look like any other post. That could be very misleading!
Facebook's spokesperson, Annie Ta, has related to the replacement of the term "Sponsored" with "Featured" briefly, claiming that because users can see ads in other places on Facebook from advertisers they aren't connected with labeled as "Sponsored", they didn't want to confuse the users…:
"We will be labeling these stories as "Featured" instead of "Sponsored". We are using the term "Featured" because we want to make it clear to people that they are seeing content from a Page or person they have chosen to connect to." (Annie Ta, Facebook's spokesperson)
Well, here's my suggestion: If you really don't want to confuse people, instead of "Featured" you can call the ads "Ads"… At any case you can read more about the new Featured ads in this dedicated Featured Stories help page.