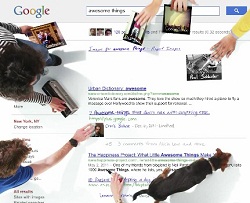 Over the last few months Google has slowly integrated its core product, the search engine, with its social networking service Google+. Today, Google has announced on one of the most drastic interface changes it ever made to the search engine with a much deeper integration with Google+. It is called "Search Plus Your World".
The new "Search Plus Your World" concept centered around one thing only- To make the search engine more social and personalized for the user, where Google's social flagship Google+ will carry all the new social features on its (young) shoulders. In fact, Google are now going "all-in" and betting everything on the company's social networking service.
The change will be implemented to the Google.com domain in English for people who are logged into their Google's account in the next few days. Users which will enter the "new Google" for the first will receive a welcoming message on the top of the search page. The new interface includes 3 social new features:
Personal Results
Profiles in Search
People and Pages
Let's go over the new social features:
Personal Results
Even before today, Google was mixing some of the user's Google+ social signals into the search results (mostly +1's) but now the company is assimilating it on a much wider scale. Google+ posts and photos (also from Picasa) will be added to the search results deeper, which will provide a much personalized search experience.
There will be few changes and additions to the familiar search results page- On the upper side of the page, next to the total number of results, the user can now see how many of them are "personal". Clicking on the "personal results" number will show only the results from the user's Google+ social world.
Next to it on the right side, you can now find 2 new buttons that have been added. One is to enable the personal results feature (the left button) and one is to disable the personal results feature (the right button). You can watch it suppose to look on the following screenshot image: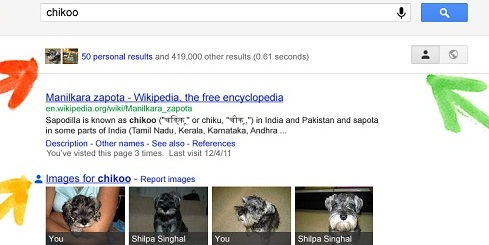 Profiles in Search
When the user will begin searching for one of his Google+ friends, Google will immediately autocomplete his query and highlight the friend's Google+ profile with his latest social activities (posts, comments, photos). The other "less personalized" results will appear right below it.
Additionally, popular verified Google+ authors will be highlighted more in the results with further autocomplete prediction will operate when users begin typing their names. Here's how a Google+ profile will appear on the search results: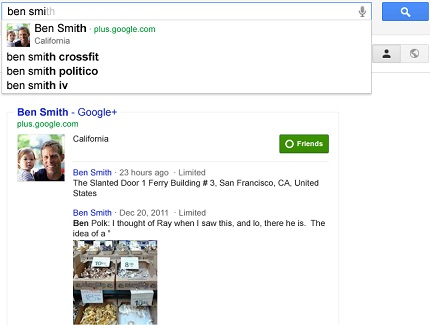 People and Pages
When searching for a general topic like "sport", "music" or "business", on the right side of the search results will appear a box of "People and Pages on Google+" which will contain popular profiles and/or brand pages that relates to the query.
You can watch this short video to impress a little more from the new Google social personalized search engine: