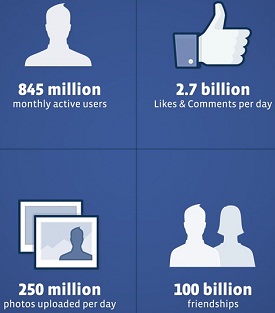 The big day has finally come. The most popular social network on the planet, Facebook, has finally filed its initial IPO documents and will become a public company in just a matter of a few months from now (probably in May), in one of the largest company's public offering in history.
Almost all details of the previous unofficial report were checked out except that Facebook won't seek to raise $10 billion, but $5 billion. One of the greatest things about IPO, is that you can discover all the numbers and data about the company as it is obligated to disclose them for potential future public investors. Therefore, lots of interesting pieces of information have been revealed about Facebook:
Revenue
Facebook's revenue in 2011 was slightly above $3.7 billion, almost exactly like the early estimations and its profit was $1 billion. If you aren't financial experts, it is pretty amazing to have a 27% profit margin for a young growing company. Facebook also disclosed its earnings since 2007, here are its yearly revenue and growth:
2007- $153 million
2008- $272 million (+78%)
2009- $777 million (+186%)
2010- $1.974 billion (+154%)
2011- $3.711 billion (+88%)
Additional fascinating fact is that the social games creator, Zynga, was accountable for 12% of Facebook's revenue in 2011, meaning it contributed more than $445 million.
Users
As of December 31st 2011, Facebook had 845 million monthly active users (+39% from December 2010) and 483 million daily active users (+48% from December 2010). Mobile users accounts for tremendous quantity of Facebook's fan base- about half of the total amount of monthly users (425 million) are visiting Facebook through mobile devices.

Monthly users by world regions:
U.S. and Canada- 179 million users
Europe- 229 million users
Asia- 212 million users
Rest Of The World- 225 million users
Facebook specifically mentioning Brazil and India as main countries for further key growth.
Major Shareholders
Facebook IPO will make few people and organizations billionaires and many others millionaires. The founder and CEO, Mark Zuckerberg, is the biggest shareholder with 28.2%. Next is James Breyer and Accel that owns 11.4%, followed by Facebook co-founder Dustin Moskovitz with 7.6%. The Russian company DST holds 5.5% and Peter Thiel, which was one of the firsts to invest, has 2.5%.
Another interesting thing that relates to the matter is that from the beginning of 2013 Mark Zuckerberg's salary will be $1 (one dollar), continuing the tradition of Steve Jobs and Warren Buffet. In 2011 however, Zuckerberg earned about $1.5 million (salary+bonuses), still peanuts compared to the potential $28 billion in stock worth he holds (for a company's $100 billion valuation).
Facebook filing for IPO is definitely an exciting thing and the documents are full with many more details and information. I tried to provide here the most interesting and important issues, but if you want more you can go ahead and read the complete documentation here.
Update (3.8.2012)- Facebook filed an amended form of its IPO documents which includes some changes. Read an overview of the changes and updates in this post.