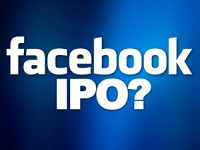 The moment many social networking fans, tech geeks, investors and Wall-Street analysts have been waiting for might arrive very soon… New reports are indicating that Facebook IPO (initial public offering) is coming at mid-end May, in one of the largest IPOs in history.
Raising $10 Billion At a Value Of $100 Billion
The tech blog, AllThingsD, is reporting that Facebook is planning its (long waited) IPO on the third week of May this year, with the purpose of raising $10 billion when the company is estimated at a value of $100 billion, which will make the IPO one of the biggest of all times and the largest one ever by a tech company.
Although the report is based on "multiple sources", the public offering at that period is far from high certainty and depends on many issues. To indeed go public in May, Facebook must file all proper financial documents by the end of February and hand them for review in a process that usually takes few months.
Besides the financial bureaucratic process of a public offering, Facebook might decide to delay the IPO due to the unstable and unexpected economic situation of all markets around the world. If the global markets will see further decline (after another debt crisis in Europe for example), Facebook might decide to postpone the IPO until stabler economic period.
The Time Is Right
Over the last 18 months there were many reports and rumors that Facebook will go public while many of those were certain it would occur in 2011 (what obviously didn't happen). However, it seems that the new report is the most serious only because of the current befitting circumstances:
In order to raise more capital from more investors Facebook must present its financial reports publicly.
High pressure to go public from many Facebook's employees which been promised stock options.
The U.S. markets have stabilized (relatively) in the last few months, what will draw more investors.
Increasing competition from tech rivals (especially after Google's "Search Plus Your World") is raising the need for more funds.
Big public-opinion pressure that Facebook too big to stay private (although it isn't a big factor, it still contributes).
Although Facebook's representative decline to comment about the report at this point (what is expected), Facebook latest moves recently such as integrating ads in the News Feed and the reported mobile ads to-be-launched soon, are pointing out on a clear intention of increasing the revenue aggressively, possibly to attract investors when the IPO time will come.