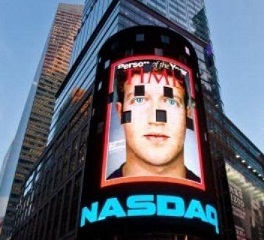 All reports, signs and rumors are indicating that Facebook's IPO is just a matter of few months from now- After the last "multiple inside sources" report has pointed out on an intention of the company to go public in May, it received another reinforcement lately from the WSJ that reported Facebook will file the proper papers in the upcoming week.
According to "people familiar with the matter" (don't you love these definitions?) Facebook will seek to raise about $10 billion while the company worth evaluation will be somewhere in the ranges of $75-$100 billion, making it the highest internet business offering ever. The IPO is planned to take place in the next few months, sometime between April and June.
Regulatory Issues Pushed Towards Financial Disclosure
Facebook founder and CEO, Mark Zuckerberg, didn't hide his unwillingness to bring the company to the stock market and managed to delay the public offering until today, despite huge investors pressure in the past in order "to focus on development and not on price share". So why eventually deciding to do it now?
Apparently, legal forces has pushed towards this decision- If a company has more than $10 million in assets (which Facebook clearly has) and also has more than 500 shareholders (Facebook almost there), the company is required to disclose its financial reports. Therefore, an IPO seems much more logical than staying private but disclose all financial information.
Does Facebook Really Worth $100 Billion?
Facebook predicted evaluation raises the $100 billion question- Does the company really worth this incredible amount? The research firm eMarketer has estimated that about 90% of all Facebook revenue comes from ads where in 2011 it was $3.8 billion and its predicted to grow to $7 billion in 2013, while the social network will cross the billion users mark sometime this year.
If we do a simple comparison to another online ad-revenue giant, Google, that earned in 2011 about $38 billion (5+ times more than Facebook's 2013 predicted earnings) and worth approximately $200 billion, we can conclude that even if Facebook generates much higher profitability rates, its worth is still not around these $75-$100 billion estimation ranges.
The WSJ is currently conducting a poll, asking "how much do you think Facebook is worth?" So far, slightly more than 2,600 people have voted and as it appears, most of them also don't believe Facebook is worth $100 billion (or more): More than 52% think that Facebook is worth less than $75 billion, about 18% think it worth $75-$100 billion and about 29% think it worth more than $100 billion.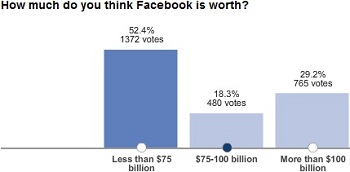 However, it is important to remember that these kind of things are very volatile and only after Facebook will actually file the proper financial documents we could really know how much it actually earns and eventually profit. Soon, we will probably receive some answers.