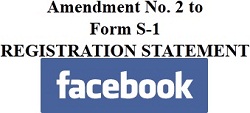 Whenever a company files for an initial public offering (IPO), often it revised it and submit another fixed version of the S-1 form so the future (potential) investors will be updated and well informed about the company's most recent state.
Yesterday, Facebook submitted its amended S-1 form which includes some significant changes and updates from the original filing at the beginning of February. The updated version of the document provides a great opportunity to go over the latest changes and events that Facebook can be affected by. Here are Facebook's S-1 form most important updates:
Users
Facebook presented few small changes to the user stats it has presented before:
As for December 31st, the social network had 432 million monthly active users through mobile devices and not 425 as previously posted.
Facebook estimates that only about 58 million mobile monthly active users (reflects nearly 7% of the total users) are using the social network exclusively through mobile devices.
The growth of daily active users as a percentage from monthly active users between December 2010 (54%) to December 2011 (57%) is attributed to increased mobile usage.
India's penetration rate estimated to be 60% (not 20%-30%), Brazil and Germany penetration rate 30%-40% (not 20%-30%), Japan, Russia, and South Korea penetration rate 20% or lower (not 15%).
Risk Factors
Due to recent events and occurrences, Facebook had to add and update some of its risk factors (as I discussed extensively before):
Facebook added that it presented Sponsored Stories to user's mobile News Feed (part of its Premium ad package). As a result, the statement they the company don't display mobile ads has dropped (however it still remains "unproven").
As a result of the new Zynga's gaming platform site launch and the concern that users may migrate to this site, it had to be added as a risk factor.
A whole new risk factor section dedicated to user metrics measurement difficulties was created. The difficulties are driven from things like duplicate user accounts (estimated to be 5%-6% of the total monthly active users) and automatic mobile activity (estimated to be less than 5% from the total daily active users).
The recent Yahoo's threat to sue Facebook over alleged 13 patent infringements, even though yet to actually take a legal action, has been mentioned.
Revenue
Facebook added a section where it elaborates how the company's revenue is distributed by geography (numbers are rounded):
Total Worldwide- $943 million advertising, $188 million other.
U.S. and Canada- $462 million advertising, $108 million other.
Europe- $306 million advertising, $55 million other.
Asia- $95 million advertising, $20 million other.
Rest Of The World- $79 million advertising, $8 million other.
Facebook additionally added that its new real-time Insights reporting can maximize the results of advertisers as they track and optimize their performances in real-time.
Those are all the changes I have found, if you find more, you are welcome to leave a comment!