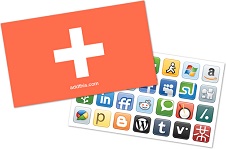 2011 was the best year ever for the (young) social networking industry and established its status as an integral part of the web and in many people lives. After some of the most popular social networks like Facebook and Twitter have summarized the year, it is now the time to overview the social networking services from a more general perspective.
The most popular social sharing platform, AddThis, has released its own yearly review, summarizing the prominent sharing trends for 2011. When this kind of review is being published from a platform that installed on more than 11 million sites and serves more than 350 social networking services on its platform, we can learn a lot about the social networking industry.
Noted Social Networking Services Stats
Not surprisingly, Facebook is the most popular sharing social networking service and constituted 52.1% from all the social sharing online, up from 44% last year. Although Twitter sharing were only 13.5% of the total online sharing, it still demonstrated in impressive increase of 577% from last year. The Google +1 button that just launched this year showed a 373% growth, but now it seems to hold still.
Two notable-growing social networking services worth mentioning, that i already discussed about this year, are Tumblr (about 1300% increase!) and StumbleUpon (320% "viral lift"). On the other hand, two social networking services have continued their gradual decline- Digg sharing fell by 47.7% and MySpace sharing dropped by 57%.
Browsers Sharing
The social sharing volume by web browser can also reflect over the total web browsers market share- Internet Explorer is continue its declining although keeping the first place, Google Chrome continue its rising and already surpassing Firefox that kept its relative share.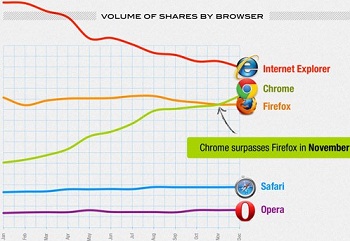 Most Social Sharing Events Of The Year
Osama Bin Laden Killed
Earthquake In The East Coast U.S.
Hurricane Irene
Royal Wedding
Japan Tsunami
Final Space Shuttle Mission
Steve Jobs Dies
Occupy Wall Street
Mubarak Resignation
Super Bowl
Kardashian Divorce
Mobile Interesting Stats
The huge mobile outburst in 2011 didn't skipped the social sharing field- Mobile social sharing as grown six times more than in 2010, iPad's social sharing has bypassed iPhone's social sharing and Occupy Wall Street in October caused a 217% increase in mobile sharing.