According to the last 3 months stats from StatCounter, the second most driving traffic social media source is not Twitter or YouTube, It is the social bookmarking website StumbleUpon. It is only second to Facebook, that dominate the social media traffic sources safely.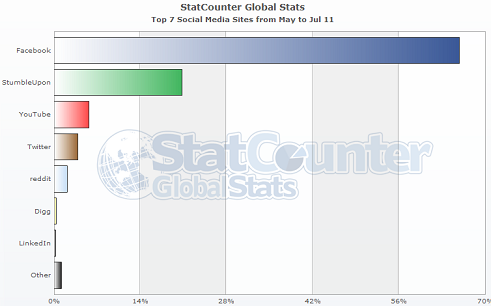 StumbleUpon has demonstrated a steady, constant and impressive growth for the last few months, responsible for about 20% for all traffic that comes from the social media, yet far behind Facebook that has more than triple amount with about 65%. The third social media traffic source is YouTube with a little less than 6% and fourth is Twitter with about 4%.
This stats proves that if used properly, social bookmarking websites in general and StumbleUpon specifically, can be a good source of traffic additionally to a discovery tool for pages. I have to say that it is a bit surprising for me- After all, StumbleUpon has "just" about the 100 Alexa rank, however bypassing YouTube which ranked third and Twitter that ranked 9th!
Although i am not a big fan of social bookmarking websites (I don't have content discovery problems with search engines), i can't ignore these stats and i am certainly going to add it to my work from home marketing efforts.
StumbleUpon Explore
In the last few days, StumbleUpon had presented new feature- Explore. It isn't a search engine tool because it doesn't show search results: When you type a keyword at the box, it takes you directly to a random page that relates to your term. It's purpose is to offer the users a new fun way to discover random new content, which is basically another discovery layer for this social bookmarking website.