At this time of year, there is a huge focus on returning to education. The schools are already back in the United Kingdom, which means that the attention turns to students returning to their places of Higher Education. The principle of settling down for a new educational term is the same for students of all ages but clearly there are different elements involved with people going off to college and university.
There will be plenty of people looking to make the most of the freedom and the excitement that comes along with this form of freedom, but of course, there is also a need to buy different things.
School uniforms don't have to be bought, but it is likely that a good laptop is vital equipment for a student at this time of year. There has been a surge in the sales of laptop recently with one retailer likening the demand to a "mini Christmas".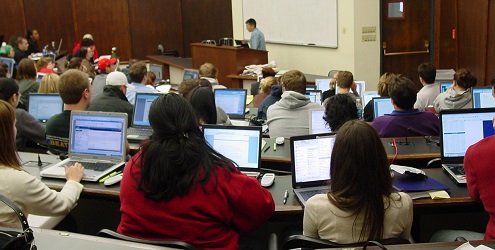 John Lewis have said that the period between the A-level results being announced and the new educational term starting is now the second biggest peak for electronic gadgets in the entire year. The firm has released figures that the sales of laptops are up by 33% compared to this time of year, indicating a huge growth but it not only John Lewis who have benefited.
The Curry's Group, along with PC World, have announced that their sales of laptops grew by over 50% after the announcement of A-level results. In terms of the year, this period is massive for these companies and you can expect this to be the same across the industry.
If you are the sort of person that has an iTunes account, and in the modern era that is most people, you will find that even Apple make sure that they get it on the act at this time of year, sending out emails to people providing money off deals when a new Mac is bought in time for the new school year. Retailers have to jump on to any element that will provide them with a good source of income and this appears to be the situation we face at the moment with respect to computers and laptops.
Research is being carried out online too
While laptops are perfect for writing reports, it is found that many students are now researching and studying online more and more, which means that textbooks are being used less and less. Given the high price of many educational textbooks, it is easy to see why many people would be keen to see a move away from this market, but the firms involved in this market will be keen to maintain a foothold, or at least ensure they can enter the online market and still charge the high fees that are associated with their work.
Some great educational uses for a laptop for students:
Studying
Writing reports
Emailing tutors and lecturers
Checking timetables and class notes online
Skyping back home
Using social media to keep up to date with campus activities
With this period of time recognised as being hugely important, it seems as though firms in the industry start building towards this period from back in February. In this regard, firms can come off the lucrative Christmas market, get beyond the January sales and while there will always be a ticking over element to the laptop industry, firms will be working hard in the background bringing their plans for autumn to fruition.
Whether this is in developing new software or finishing off the marketing elements that will make one particular laptop stand out from the rest of the laptops on offer, it is clear to see that there is something to focus on all year round in the laptop and PC industry.
Convertible laptops are on trend this year
The biggest trend for this year is the convertible laptop, which has a screen which can be detached and then used as a tablet. This provides the user with two sorts of products for the price of one (even if the price of this new product is higher than other products) and of course, as it is at the cutting edge of technology, this style of product is very much in demand. Showing the right image is crucial for students and while a laptop needs to be reliable for work and studying purposes, there is a lot to be said for having a great looking laptop that catches the eye and perhaps marks you out as being a cool person.
Of course, student life can be quite chaotic at times, which means that insurance, bags and other protective elements are all important purchases that shouldn't be overlooked at this time of year. This means that there are plenty of firms that provide accessories in this market who are doing okay for themselves as well at this time of year.
Andrew Reilly is a freelance writer with a focus on news stories and consumer interest articles. He has been writing professionally for 8 years but has been writing for as long as he can care to remember. When Andrew isn't sat behind a laptop or researching a story, he will be found watching a gig or a game of football.