About a month ago, Facebook began rolling out the Timeline profile to brand pages and we are now just a couple of days before it will become the default profile for all brand pages (on March 30th). That is a good time to try understand better how the Timeline is performing.
When I first examined this issue among few pages that immediately adopted the Timeline after its initial launch, I raised the possibility that it might drives less engagement than the old profile. However, I was careful and suggested that brands may need some more time to fully understand how to use it properly.
A different recent study from the social media analytics Simply Measured, has revealed that unlike my findings, Facebook pages which switched to Timeline are now driving higher levels of engagement rates. The research analyzed 15 popular brand pages and compared their pre-Timeline stats to their post-Timeline stats.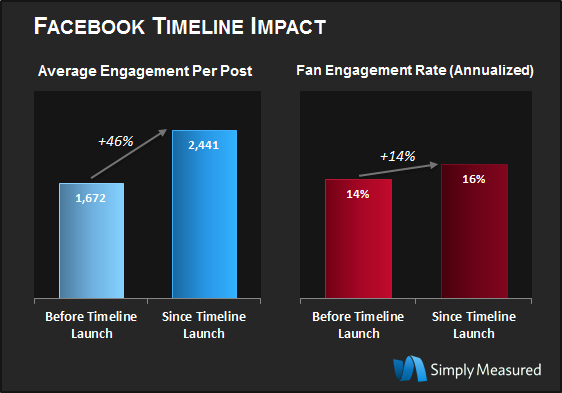 You can see from the findings that the average level of users engagement with the page's posts has rose by 46% and the average level of users engagement with the page itself (fans) has increased by 14%. According to these stats, it appears that users are much more engaged with Facebook's Timeline brand pages and especially with their posts.
Out of the examined 15 brand pages, 11 have demonstrated growth in the user engagement rate with posts while only four showed a decline. Here's the 15 brand pages Timeline engagement rank:
Livestrong- +161%
Toyota- +156%
Humane Society- +83%
Red Bull- +70%
Macy's- +52%
Ben & Jerry's- +38%
Sears- +36%
Lexus- +27%
Tide- +26%
Walmart- +26%
Coca Cola- +2%
Ford- (-1%)
AT&T- (-10%)
Target- (-25%)
Old Spice- (-67%)
The study also elaborated how the level of engagement has changed based on the post type (link, photo, video or simple status). It appears that the Timeline is driving much more engagement to visual posts and driving less engagement to text only statuses.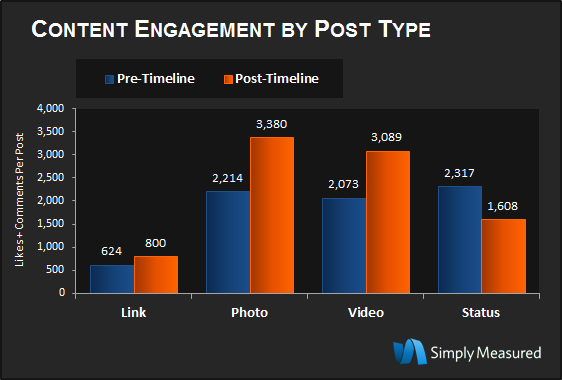 You can see that the biggest post type gainers are photo posts (+52.6%) and video posts (+49%) where posts that contains links (+28.2%) also had a significant rise in the engagement rate. On the contrary, simple status posts (-30.6%) are driving much less engagement with the Timeline.
It seems that users find it much easier to discover visual contents with the Timeline profile, while they are ignoring more "simple" textual contents. It is important to mention once again that the Timeline is still very young and whenever all pages will switch to it as default I am sure it will be much easier to investigate it.