Can the man who already changed the world once, change it again? Today at the Facebook F8 developer conference, Mark Zuckerberg introduced new cutting-edge features that takes social networking to its next evolution stage.
The most serious and significant upgrade that introduced was "Timeline"- New concept and design for the user profile. More important announcements and features: Analytics, other verbs next to "Like" and advanced media sharing apps.
The New Profile – Timeline
The user profile page got completely renewed and present new perspective- Instead of only dry details about the user, it offers a complete chronological history and highlights of the user. The more you scroll down the profile page, the more older history of the user you will see.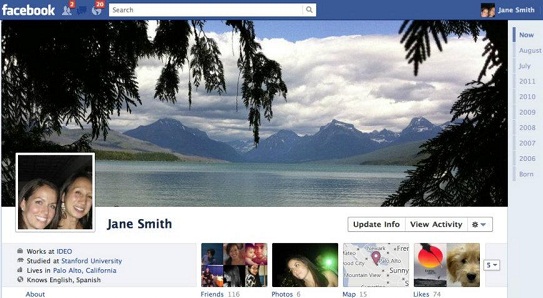 The new Timeline profile will become available in the next few weeks and will become the default one for all users after an undisclosed adjusting period. On the meantime, you can watch a Timeline demonstration of a (super-active) user in this video:

Analytics
New great feature for marketers is the Open Graph Analytics- You can analyze, measure and optimize your contents by using it. From first glance i can say that it is very sophisticated and detailed, much more than the Web Analytics by Twitter that also presented recently. You can find information and guidance for it on this View Analytics page.

More Verbs Next To "Like"
Facebook wants to encourage the users for more engagement and it is doing it by evolving the "Like" button for further verbs, for example "Watch", "Read", "Listen" and "Eat". Apps will take a meaningful part for creating these verbs and others.
Advanced Media Sharing Apps
Sharing videos and music isn't new, but now the users would have the possibility to watch videos and listen to music alongside their friends. Whenever a user will see one of his friends listening to music or watching a video (and more activities) on the new friends Ticker, he could join him and discuss about it.
This will also be extended for more apps the users could share together. Watch this video for more information about media sharing apps: