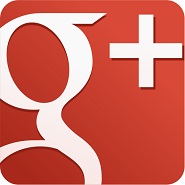 I have been covering broadly Google+ lately as it continues to expand fast in terms of registered/active users. Now, i can also reveal that Google+ is growing in terms of traffic as two new reports are indicating that Google's social networking service traffic has doubled itself and more in the past few months.
The two impartial reports are coming from two respectable companies that considered highly reliable for web analysis and measurement- Experian Hitwise and Chitika. Another positive sign for the reports reliability is that the two reports are similar in terms of relative growth. Let's go over the reports:
Experian Hitwise: Google+ Traffic Nearly Doubled In Two Months
Experian Hitwise has Tweeted couple of days ago that Google+ traffic from the U.S. reached for more than 49 million visits in December, up 55% from November. In addition, this is an all time monthly visits record for Google+. In the Tweet, there is a referral for this chart that elaborates Google+ overall monthly traffic since its launch:

We can see that in October Google+ had slightly more than 25 million monthly visits, where in December it already had more than 49 million monthly visits. This is close to 100% traffic increase in just two months!
Chitika: 118% Traffic Increase Between September-November
The report from Chitika is also indicating on a massive growth in visits in the last few months- From September to October Google+ online activity (fancy term for traffic) has increased by 55% and between October to November online activity has increased by 41%. Overall, since September to November online activity has grown by 118%.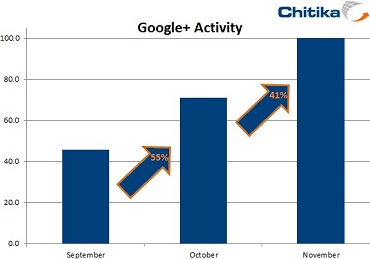 Possible Reasons For The Mass Traffic Growth
Google has been promoting and integrating aggressively Google+ in all of its products, including the core ones such as in Search, in Android and in Gmail.
Since brand pages became available, more people are allured to join and to connect with their favorites brands.
Powerful advertising campaign in prime spots on the web and in TV commercials at primetime hours such the following Muppets commercial: