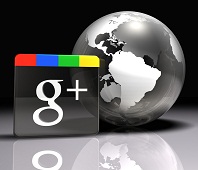 Since Google have launched its own social networking service, Google+, there are always questions if it is succeeding to compete with Facebook and other popular social networks. I believe that the best answers can only be found behind the numbers, so in this post i will try to estimate how many users Google+ has based on a few reliable online sources.
The best place to start looking for stats is the company itself, however, Google is rarely releasing their numbers and statistics, where the last time we receive an official update was more than two months ago when Google's CEO Larry Page disclosed that Google+ passed the 40 million user mark. so, let's try to find other web measuring sources to give us some answers:
comScore
According to new numbers from comScore's Andrew Lipsman (and published on TechCrunch), in November Google+ was the fourth most popular social network and had close to 67 million users (unique users) pushing away MySpace's 61 million to the fifth place. Facebook the first has 793 million, Twitter second with nearly 168 million and LinkedIn third with close to 95 million.
Although it is pretty impressive for the less than six months social network, it reflects only a two million users increase in a month, which is pretty slow. Just for comparison, in its first month Google+ reached for 25 million new users (as showed in the 2011 social networking report).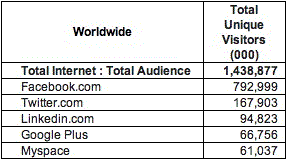 Compete
Compete is estimating that Google+ had 14.3 million visitors in November and if we compare it to Facebook stats (nearly 163 million visitors) and we know Facebook has about 800 million users, that gives Google+ an estimation of a little more than 70 million users.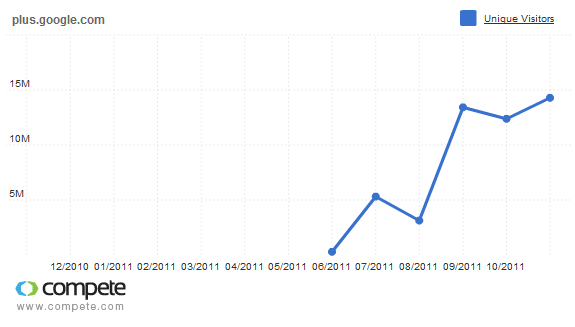 Alexa
Although Alexa doesn't analyze subdomains entirely and Google+ is under Google.com domain (plus.google.com) we can still extract the required information. It is estimating that Google+ responsible for 7% from the total traffic to Google.com domain. If we calculate the small Alexa advantage Google has over Facebook and (again) assume Facebook has 800 million users, that brings us to about 65 million users for Google+.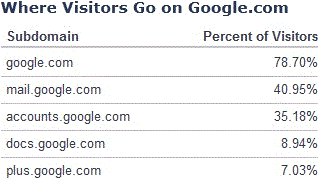 Conclusion
If we combine all the stats together, we can estimate that Google+ now has about 65-70 million active users. I say active, because all stats relies on unique visitors stats, meaning users who were active. All in all, not bad for a six month old social network. It is also important to mention that the data don't consider yet (not fully at least) the launch of Google+ brand pages which surly contributed to the social network popularity.