One of the most interesting reports i have been waited for lately was about the social networking state in 2011. It is no secret that social networking has grown bigger this year and established itself as a core online activity, however, i wanted to see some "official numbers" that will back it up.
Yesterday, comScore has published its comprehensive report of the social networking state in 2011 that includes detailed stats about the social networking industry worldwide. It basically has two parts- The first is dedicated to general global information and the second provides social networking statistics on specific countries.
In this post, i will try to extract the most important things from the first part of the report. I do recommend however to anyone who work from home to examine the information of his targeted market from the second part of the report because it might contains additional important local elements.
Social Networking Activity
Currently, there are approximately 1.2 billion social networking users all around the world, which reflects a 82% reach to the internet community. In fact, social networking adoption is growing almost exactly like the growth rate of the web adoption, meaning that people starting to use social networks just as they start using the internet! Additionally, social networking is the most popular content activity online that responsible for 19% of all time spent online.

Deep Penetration Anywhere On The Globe
Despite different regions differentiated by language, regime, culture, economy, society and more, it seems that social networking managed to connect the world more than it ever was before. Almost all countries from the 43 that examined have showed a tremendous social networking penetration of more than 85% (except China's 53% and Japan's 58%) where 17 countries have almost full penetration of at least 95%!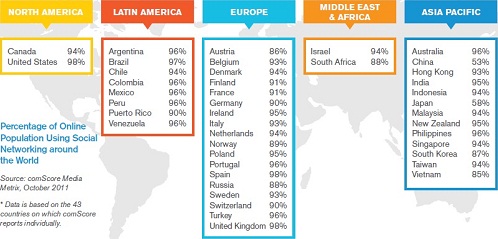 Popular Among All Age Groups
Few years ago, social networking was mostly attributed to young people. However, the different age groups use patterns began fading away as time went by and today there are only almost insignificant differences- Although young people (ages 15-24) still use social networks the most, the oldest age group (ages 55+) is very close.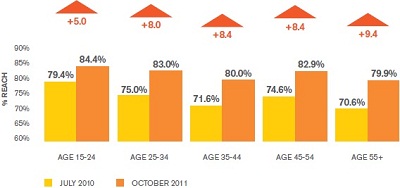 The Leading Social Networks
Facebook is the leading social network (but we didn't need a report to tell us that), Twitter is second most popular and LinkedIn is third. Google+ that just launched this year, already has 65 million users and broke the record of reaching the fastest to 25 million visitors in a month. This hopefully promising that 2012 will also be hot in the social networking industry, at least just as 2011.