For eCommerce businesses and online retailers the last few weeks were pretty fabulous- Starting with the week of Thanksgiving (Began at November 21st) where shopping searches initially increased, continuing with Thanksgiving and Black Friday big jump, to all-time spending record on Cyber Monday. New reports are now indicating that the rest of Cyber Monday week continued with the same trend…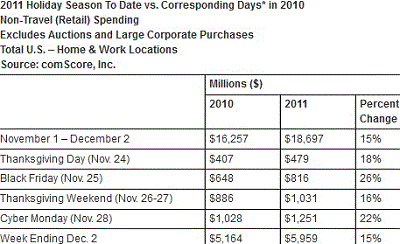 According to comScore report since November 1st until December 2nd 2011, online U.S. retail spending have increased by 15% comparing to the parallel period in 2010, reaching to $18.7 billion (from $16.3 billion in 2010)! Cyber Monday 2011 constituted as the biggest spending day (and one of the biggest in history) with $1.25 billion, an increase of 22% compared to Cyber Monday 2010.
In fact, the two following days after Cyber Monday on Tuesday November 29th ($1.12 billion) and Wednesday November 30th ($1.03 billion) are now counted alongside Cyber Monday 2011 as the top 3 heaviest spending days online ever, topping even Cyber Monday 2010 ($1.028 billion)! Overall, the week ending on December 2nd has produced almost $6 billion in online sales, jumping 15% from the parallel period last year ($5.2 billion).
Free Shipping – Significant Purchasing Incentive
comScore has analyzed that one of the major incentives for shopping online this year was free shipping. Already since the beginning of November most of online retailers transactions were with free shipping, a trend that only gradually grew until the beginning of December, peaking at 63.2% of the total transactions. Overall, it reflects a weekly average of about 8.6% increase of transactions with free shipping out of the total compared to last year.
To examine this issue furthermore, comScore conducted a survey among 1,013 internet users to measure how important is free shipping for them. The results were pretty unequivocal- 78% answered that free shipping is at least somewhat important (36%-Very important, 42%-Somewhat important), while only 2% don't consider it at all.