Black Friday and its following weekend, which are almost here (from November 25th), is always a great period for many people who work from home, especially the ones that are engaging with eCommerce as they are many people at their "shopping hunt" season. Well, it seems that this holiday season is going to be the busiest one ever…
I already reported that mobile paid searches are forecasts to jump and now Experian Hitwise is reporting in a new post that all searches that relates to Black Friday have already increased by 17% last week, compared to the parallel period last year. It also indicated it represent a 154% rise from the week before that.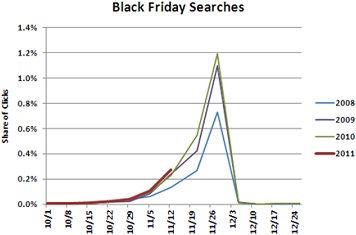 What is very clear from the graph is that every year, there are more Black Friday searches from the year before, a trend that continuing this year so far. However, we can see that the yearly gaps are becoming smaller and smaller. I am not sure though, what will happened this year as the mobile industry has grown enormously and many people will search online using their mobile devices.
As i mentioned, the main beneficiaries of Black Friday are online business owners who engage with eCommerce. Hitwise has also elaborated in the post about visits (traffic) to Black Friday related websites that also have gained this year more than previous years. Walmart.com is leading the website's search clicks and collected 10% of all search queries clicks that relates to Black Friday.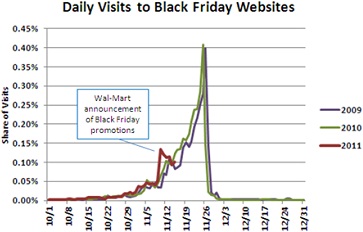 We can see that when Wal-Mart has announced its holiday season promotion on November 10th, all Black Friday related websites visits have increased by 152% compared to the day before! On the next couple of weeks, Black Friday websites daily visits have gradually decreased to the yearly average of the parallel periods.
Anyway, Online merchants should prepare themselves for the upcoming holiday season, it looks like it is going to be the busiest one ever!