The marketing (SEM) performance service provider, Performics, has released a very optimistic forecast for mobile paid search in the holiday season. In fact, it forecasts that this holiday season, mobile paid click share will be almost fifth from all Google's paid search.
Last holiday season, mobile paid search clicks share considered to be pretty high and this year it is close to be twice as big- While in December 2010 paid mobile search clicks were 9.5% out of the total paid search, in December 2011 it predicted jumping to 17.3%!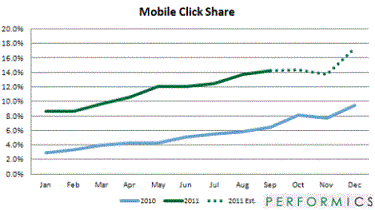 Traditionally, the holiday season considered as the busiest time for mobile shopping and the huge increase in paid mobile search clicks is derived by that. The gradual increase in mobile devices also contributed to the rise and actually, just in September (before the holidays) mobile paid click share is at 14.2%, tops last year's high point of 9.5%.
Performics also points out that tablets share is continue to grow among mobile devices- While in August it had 34.3% share of all mobile devices, in September it goes up to 35.8%. Another interesting fact is that clicks in mobile paid search are about 53% cheaper than computer paid search clicks, which offers work from home advertisers a relatively cheap marketing opportunity.
The forecast by Performics is matching other predictions of other companies like the Mobile Insights For The Holiday Season by Google, that predicts similar stats, numbers and big spike in mobile searches during the holiday season.
If your work at home includes at least some eCommerce characteristics, you must get ready and prepare your online business for the holiday season to mobile users, if its by mobile advertising or by creating a mobile version of your site and monetize it properly (which still lacks in most sites).