Black Friday and Thanksgiving have ended, where (hopefully) many of you eCommerce business owners made some significant profits, and now it is time to begin summarize and analyze these days. Overall, we can say that this was the busiest Thanksgiving and Black Friday ever online, while mobile traffic and sales have grown tremendously.
Retail Traffic Increased In Thanksgiving and Black Friday
A recent report by Experian Hitwise is showing a big traffic increase to the top 500 retail websites in Thanksgiving (+9%) and in Black Friday (+2%) compared to 2010. In fact, there were more visitors to retail websites during Thanksgiving than in Black Friday after two years Black Friday was crowned as the the highest traffic day.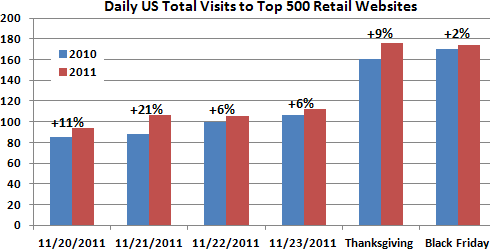 Thanksgiving day generated 1% more visitors to retail websites than Black Friday. We can also see big traffic increase in all the days prior to Thanksgiving compared to 2010:
November 20th – +11%
November 21st – +21%
November 22nd – +6%
November 23rd – +6%
November 24th (Thanksgiving) – +9%
November 25th (Black Friday) – +2%
IBM: Black Friday Online Sales Up 24%, Mobile Traffic Up 155%
IBM has published a press release announcing that online sales have grown by 24.3% in Black Friday while Thanksgiving online sales have grown by 39.3% compared to last year. Here is an illustration of Black Friday real time sales throughout the day (released by IBM):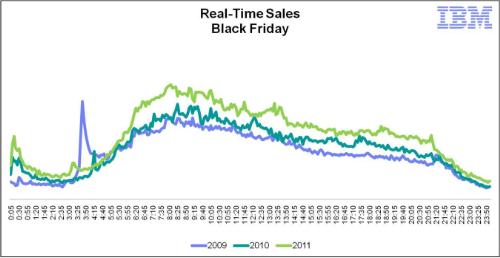 Almost during all day long, online sales on Black Friday have set new online sales high records compared to previous years (2009 and 2010), where the peak was at early morning (7:00-9:00). Sales from mobile devices was responsible for almost 10% of the total sales, representing more than 3 times jump compared to last year (where it was 3.2%).
Overall, 15.2% of all traffic in Thanksgiving and 14.3% of all traffic on Black Friday came from mobile devices where in 2010 it was responsible for 5.6% of the total traffic- This is a huge jump of 155%! IBM attributes this tremendous mobile growth to increased research usage for online deals and bargains from mobile devices.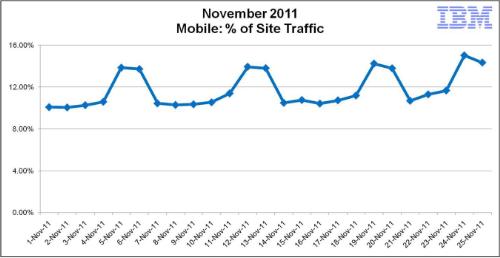 PayPal: Black Friday Mobile Payments Increased By 516%
PayPal also reported about an increased mobile usage on Black Friday- Global mobile payments have jumped by 516% on Black Friday compared to 2010. Additionally, PayPal reports on a 371% rise in the total number of mobile shoppers in Black Friday compared to 2010.
Just as IBM, PayPal also attributes the mobile shopping rise to deals research and as well to avoiding crowds while finding "perfect gifts" in stores or at the customers own homes. The busiest mobile payment locations were New York, Houston, Miami, Los Angeles and Chicago.
Final Thoughts
The big rise of online shopping in Thanksgiving and Black Friday are emphasizing the integral role the web is taking in our lives. The tremendous increased usage of mobile devices also reflecting the consumer behavior and it only predicted to grow in the future. Now, you should prepare your online businesses for Cyber Monday, which traditionally is the strongest shopping day of the year!