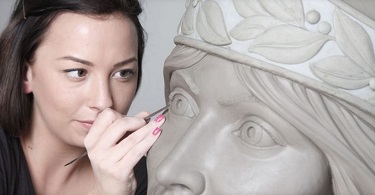 Plastering is the career of choice for many people – but it might not immediately strike you as an exciting or creative one. Likewise, it seems like a big undertaking to take up as a hobby.
Well, those doubts can be easily disproved! We've listed the top five reasons to channel your creativity into this medium, particularly fibrous plastering, which challenges you creatively and manually.
It's a different choice
When people talk about learning a new creative skill, it's usually something like painting or photography. Plastering though? It's something different, that's for sure – but it requires no less imagination or dedication. If you're looking to learn something that's going to draw on your existing creativity but push you in a way that a more conventional hobby will not, then plastering is perfect for you. Once you've mastered it, the presence of it in your skill set will help you stand out from the crowd.
It's perfect for DIY addicts
If you're the kind of person who always enjoys getting stuck into a home improvement project, then learning how to work with fibrous plastering seems like an obvious step. You'll not only be able to add amazing decorative touches to your own home, but the homes of your friends and family too. So forget the houses in glossy magazines – yours is going to be the most beautiful and unique dwelling in town. The only limit is your own imagination!
It could be the start of a new career
You can make a career out of it if you're good enough. Plenty of reputable organisations offer qualifications in fibrous plastering, which will cover everything from creating your own moulds to installing moulded plasterwork and setting out a room. In terms of how easy it is to get into the industry once qualified, it's a profession that is very much in demand at the moment – so you can expect your skills to be valued and paid for appropriately.
It's great for restoration work
You can preserve stunning period features in your home. Many older properties feature absolutely beautiful plasterwork, particularly in the form of ceiling roses and ornate cornices. These kind of features need to be treated with care and respect, which you'll be able to do if you know how to work with plaster. This can lead to you renovating properties with confidence, something that could come in useful if you choose plastering as a career.
It's a perfect career choice for creative individuals
If we're going to talk about fibrous plastering by itself, it's clear that it's the most creative part of the industry. 50% of those working in the fibrous plastering industry are employed in the TV and film sector, which is keen to recruit those who can help to build lavish movie sets and create period plasterwork for costume dramas. So it's clear that it's a perfect career for those with a flair for the artistic, and those who fancy mixing with the stars of the screen!
Why not give it a go?
So there you have it! If you were doubtful about what plastering could do for you, hopefully we've helped to throw some of those doubts out of the window. It doesn't matter if you have worked with plaster before or if you're a complete newcomer, there are lots of courses and sources of support out there to help you along. So why not try it out? What have you got to lose, after all?
Jon Riley is the Co-Director of the artisans in plaster – Locker & Riley. Jon takes pride in the fact that Locker & Riley have contributed to places like the London Palladium and St. Pancras Renaissance Hotel and believes it is a very rewarding careers to pursue.