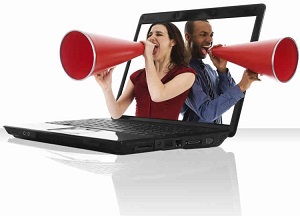 The internet as we know it has existed for well over twenty-some years and has changed the way our generation shares information, communicates and does business. While the web is used for mostly positive things, it's important to keep in mind that the internet also allows us to exercise our right of free speech, and therefore not everything you read on the internet is necessarily true.
Anyone can post on the internet, which is the beauty of it but can also have a negative impact on others. Many people use the internet as an outlet to write and read reviews on products, companies and services. While this is a great tool to get to know a company, it's important to read online reviews with caution.
It's not uncommon for competitors or disgruntled employees or customers to write negative reviews out of spite or for personal gain. For example, if you read higherone.com complaints, this could easily be a competitor looking to ruin a company's reputation in order to make their own company look better.
So how do you know the difference between a true online review and a false review? While it's often difficult to tell the difference, there are a few subtle signs to look for.
Do they recommend another service or company?
When a competitor writes a false review, they will often recommend another company or service (their own) in place of the business they're reviewing. If they recommend only one other business to use after trashing the company you're reading about, this may be a sign that the review you are reading is false.
Does the story make sense?
If it is indeed a disgruntled customer writing a review, read the entire review to see if they're story makes sense. If they seem to say negative things about the business or service but cannot tell you exactly what they did wrong, the review may be untrustworthy. Anyone out there can post a review, spotting the genuine submissions from those with an axe to grind can really help you make a better choice when it comes down to your final decision.
Has the company responded to the review?
A good company will have great customer service that really cares what others have to say about them. Sometimes you'll see a company respond to reviews on the forum, asking to please call them to sort things out. This is a sign that the company is trustworthy and has every intention to make your experience a good one.
Unfortunately, it only takes a few negative reviews to ruin a company's reputation and drive away customers. According to HigherOne.com, there are many myths and unjustified claims against them and the same is happening for companies such a Verizon and others. Vendors such as Amazon.com try their best to manage these reviews, but it can often be difficult to tell. Visit the company's social media outlets and see what people have to say un-anonymously and use your best judgment when reading online reviews.
Henry Oliver is a veteran blogger who has written his fair share of reviews on the internet. He has been featured on many different blogs all over the web and loves to share his passion with his readers.