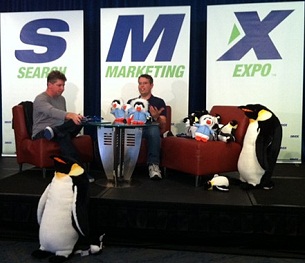 The search industry is changing rapidly and Google, as the leading search engine in the world, continues to revamp its algorithm unrecognizably. Think about how much has been changed since early 2011- Back then, Panda and Penguin were just associated to a cute animals and not to fierce search updates.
During this period, Google also became much more transparent as well- The search team is talking more openly about search updates (relatively), it sends webmasters more warnings and notification through Webmaster Tools and every month the company releasing a list of algorithmic changes.
However, even with all the transparency progress over the past 12 months or so, the webmaster and SEO communities are still pretty confused and even overwhelmed from all the volatile search changes which have a direct huge impact on millions of websites and business owners.
To pour some more light about Google recent algorithm changes and perhaps also to hint about other things which will arrive soon, Google's head of spam team Matt Cutts gave an interview to Search Engine Land's Danny Sullivan at SMX Advanced conference in Seattle yesterday. Here are the main keynotes from the conversation.
The Penguin Update
One of the major issues which occupies many SEOs these days is obviously the notorious Penguin update Google unleashed on April. Cutts has explained that basically the Penguin update is designated to finish what the Panda has started. Meaning to target low-quality content sites and spam on the search results.
Even after the many updates of the Panda and different iterations it went through since it was initially implemented on February 2011, many low-quality pages remained on the search results from various of reasons. The Penguin was set to deal with all those remaining spammy pages on the results.
Cutts is emphasizing that the Penguin isn't a penalty but an algorithm change. For Google, a penalty is when the search team is taking a manual action against a website and therefore the Penguin isn't qualified as a penalty. I'm pretty positive that for all the webmasters that were hit by the Penguin, it surely feels like a penalty…
Cutts confirms that the last Penguin update occurred on May 25th and it hasn't been tweaked since then. Apparently, Google allowed one of its engineers to choose the name "Penguin" and its unclear why he/she picked that name.
Negative SEO and Future Disavow Links Tool
After being (sarcastically) asked about Google's war against SEO, Cutts clarifies that Google has nothing against SEO but just against spam. He's stating that Google's anti-spam approach (through its guidelines) remained consistent over the years but now they got better on enforcing it.
When questioned about the ability of others to damage site's rankings (negative SEO) Cutts is acknowledging that there were indeed some cases where it happened. Then, he released a very interesting statement in which the search team is working on some kind of tool which will allow webmasters to disavow certain links pointing to their sites.
The work on this tool is still in progress and Cutts assuming it will be released at some point on the upcoming months. No further details have been delivered about this disavow links tool, but it is clearly designated to answer the negative SEO phenomenon. I assume that the tool will most likely be a part of site owners' Webmaster Tools account.
There also a brief discussion about affiliate links. Cutts mentions that Google can handle and identify pretty well affiliate links from the large affiliate networks (Amazon, Commission Junction, Clickbank, etc.) but he also suggest to webmaster to add a no-follow link attribute to those affiliate links.
Other SEO Issues
If a site was hit by an algorithm update (Panda, Penguin or another), it is possible to recover. Cutts mentions the WPMU recovery story where they have fixed what caused them the rankings' demotion (they removed spammy links) and when there was a data refresh, they got their prior rankings back.
On the other hand, Cutts says that sometimes in extreme spamming cases it would be better to give up and simply start over. If a webmaster received an unnatural links warning on his Webmaster Tools account, it means that Google took a manual action against the site and after fixing the problem he should submit a reconsideration request.
As for Google+ and +1 as a ranking signals, Cutts is saying that they aren't considered as a major indication at the moment and it is still early to assess Google+ data. Cutts didn't disclosed further information about how Google is using its social network's data for the search algorithm.
Although many speculating otherwise, Cutts states that Google doesn't use data from Google Analytics for search rankings. Also, bounce rate as a rankings signal is limited because it's too "noisy"- Sometimes users can get a quick good answer on a site and leave it, therefore it isn't such a good metric.
These were the most important issues Matt Cutts discussed about. I hope you'll find at least some of the information useful and insightful!