We're in mid-May and it means that it's time to review what is the current state and what were the prominent monthly changes and shifts on the search market for April. In this edition, I will cover the search market in the U.S., worldwide and in mobile.
Note that the recent major events in the search industry won't be reflected in this report: Google rolled out its influential anti-spam algorithm, Penguin, in late April and Bing only announced on its serious interface change few days ago. Only in the next upcoming months we'll see how these events have impacted the search market.
comScore – U.S.
In the most recent report by comScore for April, it shows that the winds are pretty much blowing to the same directions as in the last three years or so: Bing slowly grabs more shares, but not necessarily on the expense of Google but mostly on the expense of its search alliance partner, Yahoo.
Google (66.5%) and Bing (15.4%) shares grew slightly by 0.1% each, taking this share from Yahoo (13.5%) which fell by 0.2%. Ask (3%) and AOL (1.6%) shares remained flat. Overall, Bing-Yahoo search alliance now holding 28.9%, drop of 0.1% compared to March.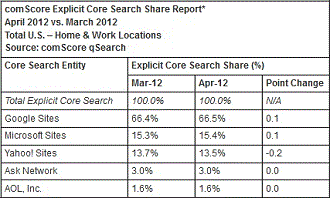 Experian Hitwise – U.S.
Unlike comScore, Experian Hitwise data are a little more dramatic and contains more volatile fluctuations. The report is indicating that Google actually lost on April 2.3% of its shares, falling to 64.4%. Bing gained additional 0.8% share and went up to 14.3%, but still behind Yahoo that added 0.7% share standing at 15.7%.
Collectively, Bing and Yahoo now surpassed by a bit the 30% milestone for the first time. It is important to mention that comScore's data are perceived as more accurate and reliable than Experian Hitwise's.

NetMarketShare – Global
According to the monthly stats from NetMarketShare, Google has a pretty safe grip on the world market- The leading search engine holds about 80% of the global search market. The Chinese search engine, Baidu, is the second most popular search engine (but mostly in use only in China) with 8%.
Yahoo has 7% and Bing has 5%, which the alliance holds combined, not impressively, 12%. All other search engines are basically battling for scraps.

StatCounter – Mobile (Worldwide)
The mobile search market has been consistently growing in the last couple of years and it is already generating 10%-20% of websites' traffic. However, it appears that the mobile search arena is probably one of the least competitive platforms.
StatCounter is indicating that in April Google completely dominated this arena with nearly 97%! Do I really need to elaborate the insignificant shares of other search engines?