I know that I'd already said that before, but if you are some sort of aspiring blogger and you aren't active on the social networking diva Pinterest yet because you don't believe the power of images or something, then perhaps you should find yourself another profession.
What the hell is wrong with you? How can you ignore one of the most popular social networking platforms in the world? Do you realize what a powerful distribution resource it is? But I guess I should have expected that from a fellow who failed so miserably my super-awesome fabricated blogging questionnaire…
Oh, I'm sorry… didn't meant to heart your precious little feelings… stop crying so I can explain to you why Pinterest is capable of greatly assisting you to increase your lousy pageviews so more people will discover your supposedly magnificent contents.
Last month I told you that according to a Shareaholic's report Pinterest is on its way to become the fourth largest source of traffic in the Milky Way (I'd confirmed that with the sun). So now, all of the spiral galaxy's 400 billion stars praise the image-based social network because it has done it!
At least according to Shareaholic's August report which based on scanty 200,000 websites…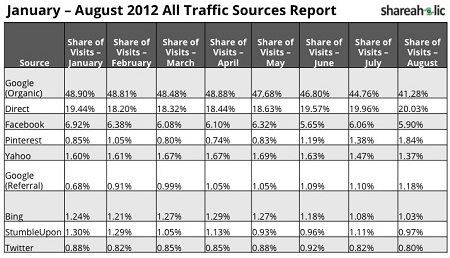 Twitter? More than twice as much. Bing? Nope (unless you wear spandex for dinner). Yahoo? Bye bye old decaying friend. The stats reflects an increase of over 34 percent of websites' Pinterest share of visits from July (1.38%) to August (1.84%), landing at the fourth esteemed place.
Interestingly, Google organic search traffic is also plummeting since the beginning of the year (although it still holds the bulk share of visits)- From 48.9% in January to a new yearly low record of 41.28% in August. I actually think it is a positive sign that websites are becoming less dependable on Google as a their predominant traffic source.
In any case, stop being a loser (of potential traffic and in general) and join Pinterest. Here's another coolish illustration that can show you why you should do that and how Pinterest surpasses Twitter, Bing and Yahoo to surge into the fourth place of websites' traffic source: