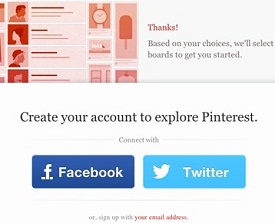 Pinterest was the most snobbish girl in high school… You couldn't just chivalrously walk up to her, ask her out and expect she will immediately agree… No, no, no! Despite all your charming glamour, you should have waited for her to ask you!
But the times have changed. The mature Pinterest went to college and begun hanging out with all the other popular cool girls (Facebook, Twitter, LinkedIn and occasionally Google+) and just like the rest of those wenches, she is now dating the masses.
If you didn't understood all that prolonging allegory, here it is for you in simple words (you sap)- Pinterest has announced it is now allowing open registration for all, without the frustrating need of waiting for an invite. You go girl!
That means that it is now possible for users to instantly join Pinterest by using their Facebook and Twitter accounts, or by their email address (an option which wasn't available until now). It is important to state that the waiting-for-invite period before was only a day or two, but an open registration is definitely more encouraging for new potential users.
But those aren't the only good news if you are a Pinterest fanatic. According to a recent report from Shareaholic, in July Pinterest continued to drive an amplifying amount of traffic to other websites. The data reflects an increase of 16 percent from June's stats, which was also an exceedingly sprouting month.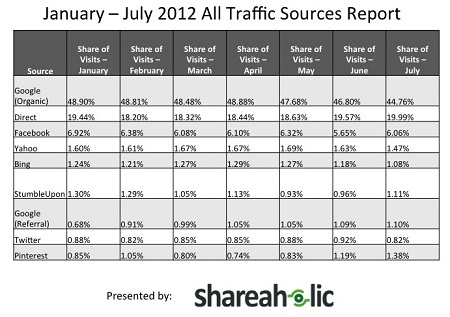 In July Pinterest was responsible for 1.38% of the total websites' traffic (based on 200K publishers), the highest rate Pinterest ever reached. That's already above other reputable sources like StumbleUpon (1.11%), Google referral traffic (1.10%), Bing (1.08%) and Twitter (0.82%). Google organic search traffic still leads the way far beyond any other source with nearly 45%.
If Pinterest will continue to generate this growing amount of traffic to other websites, the site could amazingly become the fourth source of websites' traffic, topping the two search engines Bing and Yahoo (which can also mirror their poor state).
That is a pretty remarkable achievement for a young ambitious college girl that looking to meet new people…