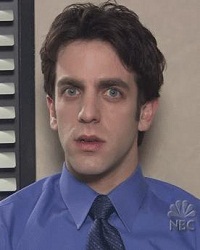 If you are a site owner and you still aren't using the generous content distribution services of the social networking phenomenon Pinterest, you are apparently a fu*king loser. Too harsh? Well, according to a new report Pinterest can be a big source of referral traffic and if you are not using this channel, that by definition makes you a loser (I will save you the fu*king).
The social sharing tools provider, Shareaholic, has posted its monthly report of the web's top traffic sources which consists over 200,000 publishers and more than 270 million unique monthly visitors. The latest data of June indicating that Pinterest sent more visitors to websites than Twitter, StumbleUpon, Google referral traffic and… Bing (awkward silence).
More awkward silence…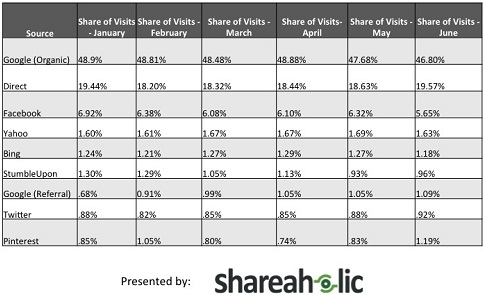 The thing about Pinterest outranking Bing which is more surprising than others sources, is that Twitter and StumbleUpon main goal isn't to generate traffic to other websites while Bing's whole essence as a search engine is to send people to the right places. Even if the report's stats aren't completely accurate, Bing was still suppose to kick Pinterest's referral traffic ass unquestionably.
It is important to stress that Google referral traffic doesn't include the organic search results, AdWords or Google+. Anyways, Shareaholic also created a nice graph to illustrate some of the traffic sources' performances over the past six month: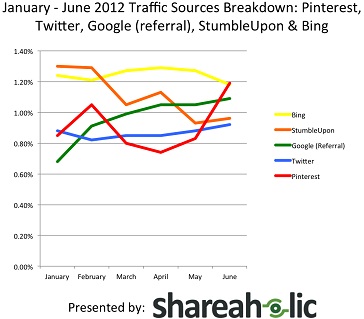 Here's a quick summary of each traffic source on the first half of 2012 (June's share of visits in brackets):
Google Organic (46.8%)- Even though it has some 4% decrease since the beginning of the year, still the dominant alpha male.
Direct (19.57%)- Remained stable throughout the first half of the year with nearly fifth of the share of visits.
Facebook (5.65%)- Although it is still by far the biggest social traffic source, since January Facebook sends about 18% less visitors to other websites.
Yahoo (1.63%)- Surprisingly, remained stable throughout the first six month of 2012 (but yet pretty low for a major search engine).
Bing (1.18%)- Didn't managed to take off and even lost some share of visits.
StumbleUpon (0.96%)- At January StumbleUpon appeared to be a promising growing traffic source but until June lost about 26% out its share of visits.
Google Referral Traffic (1.09%)- Nicely sending 60% more visitors since the year started.
Twitter (0.92%)- Rose just by a tiny bit since January.
Pinterest (1.19%)- 40% rise since January, tops many other big traffic sources, trying to expand globally, what more can you ask?