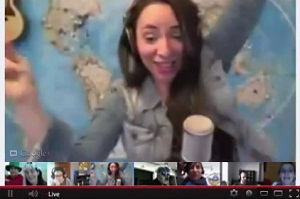 One of the most popular features on Google+ is Hangouts. Users simply proved they love video chatting and Hangouts became one of the social network strongholds. In fact, it became so likable that when Google revamped the service last month, it also introduced a complete new Hangouts page.
In September 2011, when Google opened up its social network broadly, it additionally presented Hangouts On Air- Feature that let users to make video chat with other people from the network and broadcast it for whoever want to watch it live from anywhere worldwide.
However, Hangouts On Air was only available for limited number of exclusive (and very public) publishers. That is, until today. Google just posted that from the next few week Hangouts On Air will become available for all the social network's users. Here's what the feature includes:
The ability to broadcast the Hangout publicly to anybody by checking "Enable Hangouts On Air".
Real-time users count which shows how many people are watching the broadcast.
After the broadcast is over, the Hangout video will be uploaded to the user's YouTube channel and to the Google+ post where it could be shared.
Hangouts On Air will roll out internationally to a total of 40 countries (full list of countries can be found on this page) and it will be available for users over 18 years of age who also have YouTube account in good standing (meaning without any contents that violates YouTube's policies).
By the way, this whole Google+ and YouTube integration is only possible due to the new controversial company's privacy policy which took in effect at the beginning of March, so I guess this one of its the bright sides.
The potential of Hangouts On Air is huge- For example, it can be a powerful (and free) presentation tool for businesses to display and exhibit their products/services to customers in real-time and it can enable live streaming of important events in people's lives.
Now, Google has two live streaming platforms- Hangouts On Air for the "average Joe" and YouTube Live which is only available for few selected premium publishers (and also allows monetization of live broadcasts).