The day many were waiting for has finally come- Google+ is now open for all and not for invited-based only. After 3 months the new social network was in trial, Google announced (in 7 languages!) that it is now publicly open and anyone with a Google account can sign up.
After staying still for the last few weeks, when Facebook released new updates every week (sometimes every couple of days), Google introduced also new upgrades alongside its open-for-all announcement- Improved Hangouts with API for developers and Google+ search.
Improved Hangouts and Hangouts API
Google+ Hangouts was one of the most exciting features and advantages over Facebook, when Google+ was launched. Now, the feature is expanding with few more updates and upgrades.
The first major upgrade is that Hangouts is now available also on mobile phones. At the moment only devices with Android 2.3+ are being supported but soon it will be available to iOS users. Here is an example of how it will appear on mobile phones: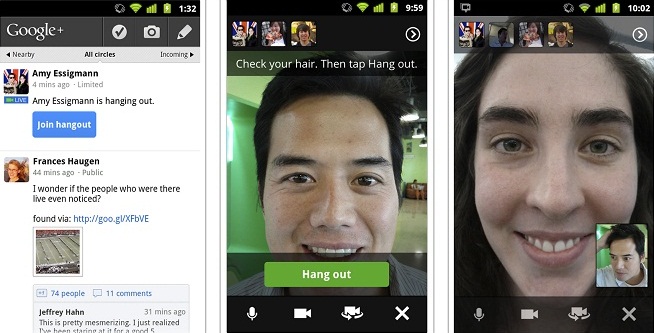 The second major addition is Hangouts On Air option- Designated to broadcast yourself in live stream online to anybody who wants to watch (although only 9 more can actively participate). Here is a live broadcast screenshot of Hangouts On Air: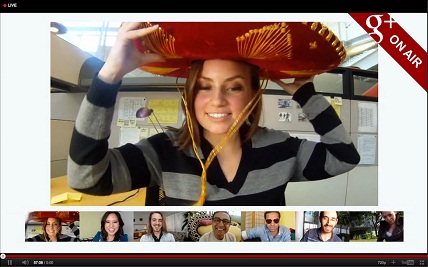 Few more additions added to Hangouts are sharing your screen with others, live sketching with others and Google Docs sharing. For web developers, days after releasing the Google+ API, Google also released Hangouts API so they can create apps and games based on it.
Google+ Search
Until now, no social network had a proper search engine, something that really can improve the user experience. Well, as stated, until now… Google+ now allowing the users to browse and search throughout the social network contents (public contents only). If you want more information, Search Engine Land already posted a compelling detailed overview about Google+ search.
Last Thought
We can say that the real battle between the social networks, after Google+ is publicly open, is officially started. Will Google+ will become the second most popular social network within a year (according to predictions) and threaten the undisputed king of social networking Facebook? There are definitely interesting days ahead of us…