YouTube is by far the most popular video site in the world. However, the folks at YouTube don't see other websites as their rivals (not the major ones at least), as their biggest competitor they see is the old familiar T.V.
The greatest exclusive advantage the T.V. has over YouTube is live streaming. That is of course, until YouTube presented a year ago its own live streaming service, YouTube Live. However, the service was available only for selected number of publishers which obviously limits its level of success.
Now, a year after the service was initially launched and although the longed broad distribution announcement has yet to arrive, YouTube did announced it is upgrading the service with some nice new features for those selected publishers.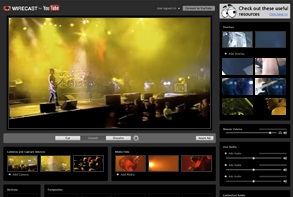 Free Download Of Wirecast For Livestreaming Partners
YouTube is offering to download for free the $449 worth software, Wirecast, for the selected livestreaming partners. The software allows professional production of live webcasts and includes the following features:
Multiple camera switching.
Adding images, movie clips, external audio, text, titles and translations.
Using any computer on the network as a source.
Chroma key (green screen).
35 layers of live composting.
Advanced Support for Flash, QuickTime and Windows Media streaming.
For eligible publishers, a download link will be available on their accounts.
Guided Flow and Real-Time Analytics
Publishers will now have a guided flow that will assist setting up the stream before it goes live with preferences like encoder, content distribution network (CDN) and resolution. The guided flow would also contain a preview feature where the publisher could see how the stream appears BEFORE it is going live.
Another addition is the a real-time analytics tool which provides insights and tracking data for the stream such as the current number of viewers, total playbacks, average view duration and filtering by locations, camera angle and resolution.

Monetizing Live Videos
This is probably the most desirable feature livestreaming partners have been waited for- The option to make money from live streams. It is available By linking the partner's AdSense account and there are two live videos monetization methods:
Instream Ads- It is possible to show pre-roll ads before the live stream begins or at some other point during the live event by using Wirecast. Available to all partners without geographical limit.
Paid Live Events- What is basically more known as pay-per-view. Only available in Canada, Japan, France, the U.S., and the U.K.
YouTube might want to compete with the traditional T.V. broadcasting, however broad live streaming service is crucial for that and it appears that YouTube still has time until it would be fully available:
If you're one of the many people who've asked for YouTube Live but don't have access yet, we want to thank you very much for your patience. We've developed these features with the expectation many more of you will eventually use YouTube Live, and like we said last year, this process takes time to roll out broadly.
The T.V. is safe for now.