The esteemed research firm comScore published yesterday its monthly U.S. online video rankings report for February 2012. In this post, besides the traditional U.S. coverage I will also review the online video rankings from two selected European markets, the U.K. and France!
But first thing first, in February 179.1 million Americans (about 84% of the U.S. internet audience) have watched videos online, a drop of 1.1% from January's data (the second declining month in a row). The average viewer watched 21.8 hours of video, down by 3.5% from the prior month (again, second consecutive month of dropping).
Here are the top U.S. online video sites for February 2012: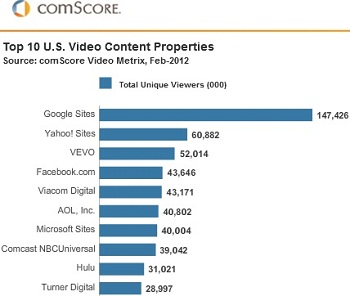 There have been a lot of ranking changes among the top 10 U.S. video sites compared to the month before. In fact, except of Google sites (mostly YouTube) at the first place with a decline of 3% in viewers, all other sites places have changed…
Yahoo sites generated an impressive jump of 23.7% in viewers, climbing above VEVO (which also had an increase of 1%) to the second place. Facebook, even though had a drop of 3.3% in viewers, was up one place to fourth mostly due to Viacom Digital's big drop of 10.3% to fifth.
AOL sites have lost 0.5% of viewers but up one place to sixth after Microsoft sites produced a bigger fall of 3.6% now at the seventh place. NBC Universal was the biggest gainer in February with 44.1% rise in viewers and up to places to eighth.
Hulu was down by 1.2% in viewers and one place, landing at the ninth place. Turner Digital is back to the top 10 list on the expense of Amazon sites that are now out of the list.
Top U.K. Online Video Sites (January 2012)
YouTube is also by far the most dominant video site in the U.K. with nearly 30 million unique visitors in January, almost triple as much as VEVO (11.7 million visitors) in the second place. Facebook is third with 8.3 million video viewers followed by BBC sites (7.5 million visitors) and Viacom Digital (7.2 million visitors) which completes the top 5.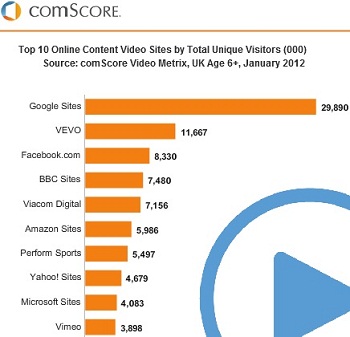 Top France Online Video Sites (January 2012)
In France, the state isn't any different- YouTube first with about 35 million unique visitors, almost twice as much as DailyMotion which gains great success in France with 18.8 million visitors at the second place. VEVO is third with 12.4 million visitors, Groupe TF1 is fourth with 9 million visitors and Facebook fifth with 7.6 million visitors.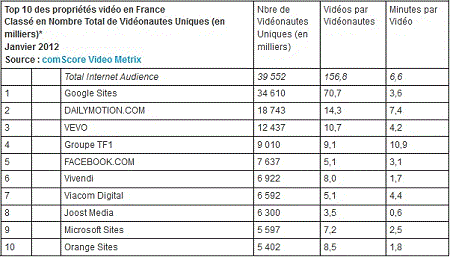 Last week in my report that YouTube is bringing the new design to all channels, lots of you raged (in the comments section) why I am saying things like "leaving dust to all others". I hope this report explains why I wrote those things which were driven from purely traffic statistics point of view.