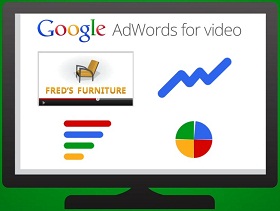 For a long while, YouTube advertising platform has resided within the video site itself and not on Google's advertising flagship, AdWords. Only on September 2011, Google began implementing slowly YouTube ad model into AdWords in a beta release just for limited number of chosen advertisers.
Now, AdWords for video is going out of beta and opening up for the general public.
From this week, advertisers can use the familiar interface and bidding platform of AdWords to launch video ad campaigns, next to search advertising and display (which also received more autonomy lately) advertising. This move essentially consolidates all of Google's major ad formats in one place.
Many of you probably ask themselves what is the big difference anyway? First of all, I think that the main goal of moving YouTube advertising platform into AdWords is perceptual- Video advertising is no longer spooky and unclear that takes place at unfamiliar territory, but a friendly and easy-to-launch campaigns inside the good old AdWords platform.
Second, it is approaching directly to small businesses which can now create an effective video ad campaign at a reasonable cost while until now it considered (even if not fully justifiably) as something that simply requiring too many resources of both time and money.
Third, Google also presenting a set of targeting and customization tools of AdWords for Video. Some of them were already existed before for the search and display ad formats and some were especially altered to fit the unique characteristics of video ads. Here's a quick targeting and customization tools rundown of AdWords for Video:
Location and Languages- Selecting the geographic location of where the ads will appear and the languages that the customers speaks.
TrueView Ad Formats- Choosing ad formats to advertise: In-search, in-slate, in-display and/or in-stream.
Keywords- Targeting specific keywords on YouTube search.
Demographics- Targeting by age groups or gender.
Topics or Interests- Target audience based on their interests like sports, technology or music.
You can watch the following video to learn how to create a video ad campaign with AdWords for Video step by step:
In order to promote and to attract businesses into AdWords for Video (and AdWords in general), Google is offering a total of $50 million worth AdWords advertising for advertisers from the U.S. or Canada ($75 per advertiser). To claim your $75 worth AdWords advertising, enter this page and fill out your details.
It appears that Google has decided to push aggressively YouTube ad revenue upwards this year as it working on both fronts- For advertisers with this move and the channel sponsorship model, and for publishers with opening its Partner program so all creators could earn from their videos and allowing Live publishers to monetize their streams.
Even though YouTube is the third most popular site in the world (after Google and Facebook) and by far the most visited video site globally with an audience of 800 million visitors every month (according to the site's stats), its monetization and even profitability still remains in the dark.
Analysts are roughly trying to estimate (guess feels more like it) how much money the site is making as it rounds from anywhere between $1 billion a year to $1.6 billion a year. However, there are even some crazy Googlers who projects that video will eventually be as lucrative as search.
But you know what, with this kind of large global video audience that is just growing every year, these "crazy" projections just may surprise all of us one day…