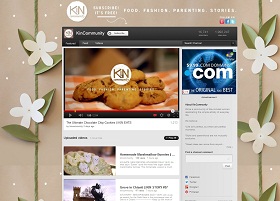 According to new reports, YouTube is trying to upgrade its advertising model in order to exploit better its enormous popularity (800 million monthly global visitors according to the site own stats) and gigantic amount of video content, by experimenting with new method to allure advertisers.
AdWeek's Sam Thielman is reporting that YouTube already began selling channel sponsorship as a new advertising model. The new model which includes ads on the channel's design, video display ads and pre-roll ads, suppose to offer advertisers new unique targeting options based on specific channels audience.
Thielman is saying that early estimations are talking about a total advertising cost of $4-$6 million every year per channel in the future, where pre-roll video ads will lead the way with an average CPM (cost per mile = thousand views) of more or less $20.
In a different story on AdAge by Michael Learmonth more details have been revealed. Learmonth discovered that YouTube plans to sell premium related-channels packages that reaches for up to $62 million for a year. Here's the packages distribution cost by topic as brought in the story:
Music- $62 million.
Pop culture- $62 million.
Sports- $40 million.
Autos- $16 million.
Celebrity News- $10-$20 million.
Geeks, Gadgets and Games- $10-$20 million
Mom's interest- $10 million.
Single channels- $2-$4 million.
Until these moments, there is no knowledge about advertisers that purchased the most expensive packages. However, apparently there were already early deals for smaller packages:
The consumer goods company, Unilever, is sponsoring the entertainment channel Young Hollywood Network for about $5 million.
Toyota sponsored variety of women-based channels like Cafe Mom, Kin Community and Mom's View for more than $10 million for the entire package.
General Motors purchased a package of automotive-related channels (which also includes Red Bull's action channel) for more than $10 million.
It is important to mention that channel owners would obviously also benefit from the success of the new ad-model. After the channel will return YouTube's initial investment (ranges from $100K to $5 million), it will begin receiving half of the profits.
Since Google acquired YouTube in 2006, it is refusing vigorously to disclose its revenue stream. According to an estimation from Barclays Capital's analyst, Anthony DiClemente, in 2011 the video site made $1.6 billion. Now, with the new ad-model rates it is trying to take on its biggest competitor (at least as YouTube sees it): The T.V.