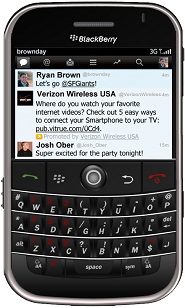 In a prior post I've published, I've been discussing that Twitter ads are performing much better than Facebook ads. The truth is that Twitter advertisements simply looks more like an integral part of the micro-blogging social network than ads on other social networks.
Now, Twitter is improving its advertising model even more with new mobile targeting options which could offer users smoother experience, depending on the certain device and platform they are using.
Twitter has announced on a blog post that Promoted Tweets ads are now also available on BlackBerry devices and it is possible for advertisers to target their audience according to five devices/platforms categories:
Desktop/laptop computers
iOS devices (including apps and web)
Android devices (including apps and web)
BlackBerry devices (including apps and web)
Other smartphones and tablets

Twitter is stating that the Promoted Tweets ads on BlackBerry devices will appear on the top of "similar interests" users' stream once a day, just as on other devices and platforms. However, I'm refusing to be excited too much about this certain addition.
According to Gartner, in the fourth quarter of 2011 there were in use slightly over 13.1 million mobile devices of Research In Motion (the BlackBerry company) worldwide which represent only less than 9% of the smartphone market share and probably would continue to lose even more share later on 2012.
However, although the current state of RIM and BlackBerry is pretty poor and the Canadian company doesn't really have a lot of chance to bounce back up, this move by Twitter has a symbolic meaning- It now allows even deeper and more specific audience targeting, which is something that always sounds good for advertisers.
Also, 55% out of Twitter's 140 million active users are using the social networking site through mobile devices so now, the company can show off to advertisers that it allows mobile platform targeting of more than 83% of this audience (Android, iOS and BlackBerry collectively).
Anyway, alongside the addition of BlackBerry, Twitter is also expanding its device targeting capabilities which were announced last month into more specific platform targeting.