It is pretty amazing how just a small idea can roll into realization. And how a little "geeky" service into one of the most influential sources on the planet. How one man can change (yes, change!) the world as we know it. And no, I'm not talking about Mark Zuckerberg, we've talked about him and his small company enough.
I am talking about Jack Dorsey and his little geeky idea/service, the six year old Twitter.
Yesterday on March 21st, Twitter turned six. To note this day, the company published in its blog an interesting post. It's interesting because it contains two things: Important key statistics about the micro-blogging social networking service and one photo of a six years old sketch.
Let's begin with the numbers first- Twitter revealed that it now has 140 million active users, which is much more than the vague (and pretty cheap!) "more than 100 million" mentioned just a day earlier when the company presented new mobile ad options.
It also been disclosed that every day 340 million Tweets are submitted. This is about 14.2 million Tweets every hour, more than 236K Tweets every minute and nearly 4,000 Tweets every second! I am proud to say that so far, WorkingHomeGuide Twitter account contributed close to 2,800 Tweets.
Now, for the sketch photo (you can see it below)- It was taken on March 2006 by Jack Dorsey and been published in his Flickr account a few days after the initial launch of Twitter. Back then it was still called "twttr" and before that, Jack even toyed with the idea of placing it under the domain "my.stat.us".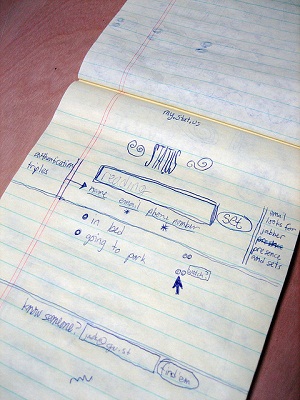 Below the sketch on Flickr, Jack explains how his (and ours) Twitter journey began. Apparently, Jack came up with the idea for a real-time online sharing tool already in 2000 where he tried to integrate it into all kinds of projects he was working on back then. Only six years later, it evolved to became a standalone service.
I find the last few lines of his 2006 sketch's description as pretty funny:
"It's evolved a lot in the past few months. From an excited discussion and persuasion on the South Park playground to a recently approved application for a SMS shortcode. I'm happy this idea has taken root; I hope it thrives."
Oh, it thrived alright… Happy birthday Twitter!