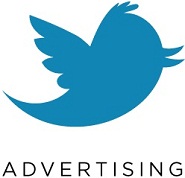 Twitter is becoming a giant cashing machine monster. Almost every week or so for the last few months, the social networking company is improving / adding more advertising products to try monetize in full its huge social community which keeps growing fast alongside its ad revenue accordingly.
But don't get me wrong here, they fully deserves it. After all, how many companies you know helps topple dictatorial regimes?
From the advertising upgrade weekly "tradition" perspective, this week is no different in that matter. Twitter announced yesterday on additional ad-related improvements, to the company's mobile advertising platform, which can potentially increase the social network ad revenue significantly.
Just a few weeks after Twitter began integrating into the mobile app platform for the first time its ad products, Promoted Tweets and Promoted Accounts, now it is presenting more possibilities- Expansion of Promoted ads outside of the brand's following circle and specific devices targeting options.
The first upgrade will have a direct impact on Twitter's ad revenue almost immediately. Expanding brand's Promoted ads to non-following users, however that "share similar interests with their (the brands) existing followers", means more ads across the social network which consequently leads to (that's right) more revenue.
The second upgrade suppose to increase the company's revenue indirectly, by alluring more advertisers. It is allowing advertisers to target their ads specifically for desktop / laptop computers or for iOS / Android and for other mobile devices. The default option is advertising across all devices.
"More Than 100 Million" Monthly Active Users?
Twitter also said in its post that more than half (55%) of the social network's "more than 100 million" monthly active users, do so at least once a month through mobile devices. What I found intriguing is the vague term "more than 100 million users", where already in September last year the company crossed the 100 million active users mark.
It is pretty safe to assume that since then Twitter managed to enlarge greatly its active user-base. Unofficial estimations are talking about 500 million registered users and 150-200 million active users, so why Twitter is disclosing such cheap and conservative numbers? Revealing the real number may create the effect the company exactly seeks for- Alluring more advertisers.
In any case, 55% out of any number between 100-200 million is high and putting lots of efforts to improve the company's mobile ad platform seems logical and necessary.