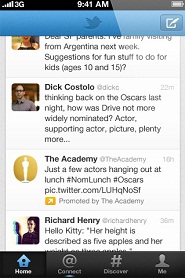 One of the biggest business-related challenges social networks have been encountered with in the last couple of years is effective mobile monetization. And while other social networking companies are just talking and talking, Twitter has proved it is actually doing (without too much talking).
The popular micro-blogging social network, that rumored to cross the 500 million registered users last week, has announced it is now integrating furthermore its advertising products, Promoted Accounts and Promoted Tweets, into the company's mobile apps in the next upcoming weeks.
As for this point in time, these ad products will only be available for Android and iPhone users and also in Twitter mobile site (m.twitter.com) which already featured these ads in the last few months. It means that the promoted ads products won't reach for iPad devices just yet (but they probably will soon enough).
In addition to the existence of Promoted Tweets/Accounts ads in Twitter mobile site, the company already running other mobile ads for a while now- In the iPhone and Android mobile apps and as well in Twitter mobile site, Promoted Trends and Promoted Tweets were available on the search feature. However, this current upgrade is a much more significant mobile advertising foothold for Twitter.
As it appears, the mobile app ads roll-out will be gradual- At first, limited number of users will begin seeing Promoted Tweets on their timelines and Promoted Accounts in the recommendations of the Who To Follow suggestions. The ad appearance will be similar to the desktop ad- It would look like any other Tweet, just with an indication at the bottom its an ad ("Promoted By…").
It also appears that advertisers that will launch a new Promoted Ads campaign will be automatically featured in the mobile app as well by default. Promoted Ads for the mobile app will work the same as they have worked for desktop- Advertisers will only be charged whenever a user is engaging with the ad (Retweeting, responding, following).
The different Promoted ad products already proved to be highly effective and engaging by the social network users. There's no reason why this move won't enlarge Twitter's revenue stream (even significantly) and it joining Twitter's other ad diversifying efforts like the new self-serve ad platform which presented two weeks ago.