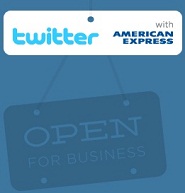 Twitter envying its big sister Facebook. It looks up to the soon-to-be a public company and gets jealous. Yes, it is true that Twitter's user base is only fifth than Facebook's, however, Facebook revenue is about 25 times bigger. Due to this unproportional balance, Twitter covets.
And so, Twitter is adopting Facebook's successful social networking revenue model (that in 2011 made Mark Zuckerberg little toy $3.7 billion in revenue) as the micro-blogging social network is about to launch its own standalone advertising platform.
The initial roll out is beginning with a promotional partnership with American Express and businesses can already sign up to the new self-serve ad platform in this page. Twitter will grant free $100 credit to the first 10,000 businesses that register and eligible for the program.
Who is eligible for the new advertising program? American Express cardholders or merchants that accept American Express cards. In addition, obviously the business must have a Twitter account and the sign up process also includes following American Express Twitter account.
Enthusiastic advertisers would have to be patient for a bit longer- Even though Twitter has already began accepting sign ups, the official launch of the program is set for late March. The $100 credit offer is available until the end of 2012 or for the first 10,000 eligible registered advertisers.
Maximizing The Potential
According to prior estimation reports, Twitter ad revenue in 2011 has summed for nearly $140 million, while in 2012 it predicted jumping to about $260 million. At this point in time it is pretty clear that Twitter isn't fulfilling completely the social networking site maximum earning potential and it must generate more effective revenue stream methods.
The new self-serve ad platform is designated to accomplish exactly that as it proved to be highly efficient and lucrative for other companies online (Google, Facebook). Sometimes envy is good.