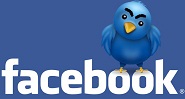 The social media is a very young industry and social networking sites are still experimenting and trying to find the most effective ad-model to maximize their revenue. While almost all of the major social networks already crossed the profitability mark, some doing it better than others.
Social networks holds such a tremendous amount of personal information data about the users and their social connection which makes their advertising personalization and targeting efforts with the highest potential in history. But it's surely not easy and the process is complex and long.
The marketing and advertising firm, TBG Digital, has published couple of related studies lately about social media companies' advertising. One is revealing that Facebook manages to increase its relative ad profitability significantly and the other reveals that Twitter ads still perform much better than Facebook's.
Facebook Average CPM Jump By 15%, Average CPC By 23%
The first report measured more than 370 billion Facebook ad impressions from 190+ countries between the first and second quarter of 2012. The findings have showed that the social network average ad CPM (cost per thousand impression) increased by 41% compared to the parallel period last year and rose by 15% from the fourth quarter of 2011.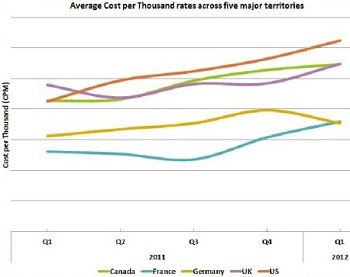 In the U.S. (which accounts for about half of Facebook total ad revenue) the average CPM has grown by 11% in the first quarter of 2012 compared to the fourth quarter of 2011 and in the U.K. it rose by 13%. Although other markets' stats didn't disclosed, in Canada and France there is a clear increase while in Germany there is a decrease.
In terms of average cost per click (CPC), Facebook ads also demonstrated meaningful quarterly increase of 23% where France produced the biggest jump of 35% and the U.S. was second with 20%. In Germany however, (again) it appears that there was some slight decrease in the average CPC.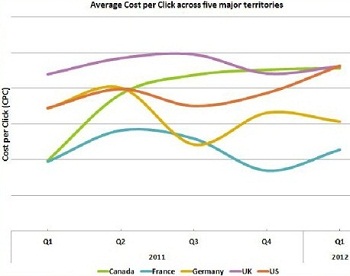 Twitter Ads Performs Much Better Than Facebook Ads
But even though Facebook ads are showing significant performance improvements, Twitter ads are still performing much better… The second report of TBG Digital is showing that in terms of effective ads CPM, Twitter is pretty much leaving dust to Facebook.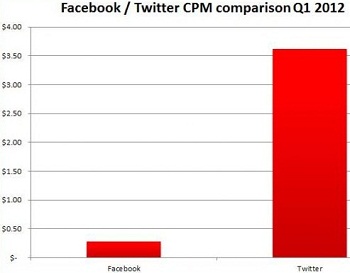 The findings were based on a comparison of 45 billion ad impressions of Twitter and Facebook and showing that Twitter is making much more money per thousand impressions. Twitter earns slightly over $3.5 per thousand ad impressions, more than seven times as much as Facebook, which earns less than $0.5 per thousand ad impressions.
It is important to state that it doesn't mean that Twitter makes more money than Facebook in general. Facebook still has a much larger community (more than 845 million users compared to 140 million users) and that community is much more engaged with the social network.
But it seems that Twitter sponsored ad-model appeals to users as a much more natural part of the social network and they are willing to engage with these ads more than in Facebook ad-model.