Facebook is taking a major expansion step furthermore into the commerce industry and more specifically into the deals/discounts/offers zone, by beginning to roll out gradually a new Offers product for businesses. Oh, and it is going to be free.
The new product, which was already in testing at late last year, will provide businesses the possibility of reaching to more customers by offering all kinds of promotions and deals directly on the social network, because as you know (or maybe you don't), people LOVE special offers and discounts.
Facebook already put up a detailed help page about the product and also a short video (you can watch it at the bottom). The social networking company is stating that Offers is currently only available to limited number of local businesses around the world (through their Facebook Page) but soon it will be launched broadly.
If you want to also try this Offers product before it becomes publicly available, you can contact Facebook and let them know through this request form, but I wouldn't rely on it too much. Anyway, here's how to create an offer whenever it will become available to you:
On the sharing box of your Facebook page click on the "Offer, Event +" button and then hit "Offer".
Give your offer compelling headline.
Upload an image. Images are cropped into 90×90 thumbnail square.
Choose the number of people that can claim the offer (or unlimited), set the offer's expiration date and add terms (if you have any).
After previewing how the offer looks like, hit "Post"!
Here's how the basic structure of building an offer appears: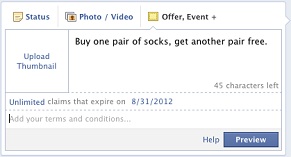 After the offer has been published and a customer has clicked on the "Get Offer" link to redeem it, an email will be sent the the customer's email address associated with his/hers Facebook account. Then, on the actual physical location of the business the customer can show it through a mobile device or a print version of it (how primitive!) to redeem it.
The offer itself is just like any other status update and therefore posting it, is free of any charge. However, Facebook is suggesting to run it as an ad to increase its exposure (pretty noble recommendation). In fact, I think that if using it wisely through the new option of Pinned post on the Timeline profile for pages, it holds a great potential for free.
Facebook entering the deals and offers arena is certainly very bad news to all those daily deals service providers such as Groupon and LivingSocial. The social network giant community and already established relations between users and businesses can allure businesses to use Facebook to feature their promotions and not the "tiny" daily deals providers.
Update (4/16/2012)- Read our follow up post about how this new product may kill the daily deal services.