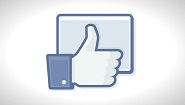 Daily deal services and websites have stormed into our lives at some point in 2010 as people were allured by the "magical" effect of special promotions and discounts. This industry continued its solid growth until mid 2011, but then and until these days, it frozen.
The problem was that almost all these deal services suddenly found it difficult to obtain the same level of new customers as before which essentially caused their growth to stop if not even to decline. This industry-freeze is offering the opportunity for new products to enter, which might just have happened over this passing weekend.
But before I elaborate on that, allow me to establish the conclusion that the daily deals industry has indeed stopped growing.
The only real public data from a daily deals company can come from Groupon, which is the only public company from the industry. Obviously, the best indicator for the investors confidence in the company's ability to grow are reflecting on its share price. And Groupon's share didn't perform so well since its initial public offering…
On the first day of Groupon initial offering, it set its share price for $20 and the it closed with an amazing jump of 30% to slightly over $26 a share at the end of the day. However, since then it has been constantly declining. Couple of weeks ago, the deals company has revised its 2011 fourth quarter results downwards which caused its share to drop even more. Currently its share price is at about $13, 35% lower than the initial set price.
Let's talk about the traffic performances of the leading daily deal websites- Groupon, LivingSocial and Woot (I didn't include Google Offers because its traffic can't be measured). Here are the three sites' traffic performances taken from Alexa and Compete: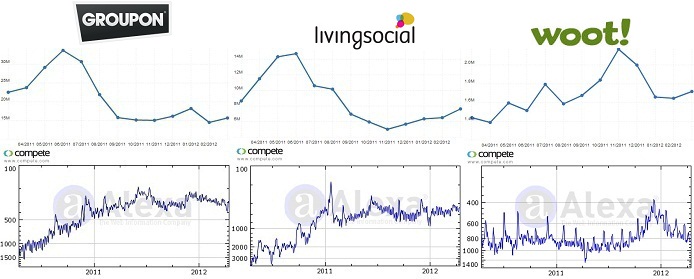 We can see the peak both Groupon and LivingSocial had in June 2011 and since then, decline and a freeze. Woot showed some signs of waking up at the end of 2011, but later on aligned back with the rest of the industry's sleep. These are three of the top daily deal services which can pretty much reflect over the whole industry state.
In this point exactly is where new products have the opportunity to enter the market and capture the attention of users and businesses which already showed signs of fatigue using the old products. And during the last weekend, this kind of new product may have just arrived.
Facebook began rolling out slowly "Offers", which allows businesses with a Facebook page to post deals and special promotions directly on the social network. The best thing about it, is that it is completely free of any cost (even though Facebook recommended to run it as a sponsored ad for more exposure).
Although it is pretty early to tell for sure, I think this new product is a complete game changer that will affect tremendously the deals industry. Currently, Facebook Offers is only available for limited number of businesses but when it will become publicly available for all, I believe that many of the businesses that are using other daily deal service providers will shift their resources to the social network.
The first clear advantage of using Facebook Offers is that it's free. Why a business would pay (or split its profits) for something if another company is offering more or less the same thing for free? It reminds me the first days of the email- At first, email was a paid service but once a few companies began offering free email accounts, it was the end of the paid services.
Another big advantage Facebook Offers has over other daily deal services is the company's own essence- The social network. Many businesses already have established connections with customers, and so, the social network itself allows a direct business-user channel to offer promotions and discounts without the need for another "middle man".
Costumers likes receiving deals via email? No problem, Facebook provides its own email service, which the social networking company pushed furthermore lately. There is no reason to go out of the social network to find deals from brands.
As things might turn out, maybe the future of the deals industry is to be just another social layer…