While Facebook's Timeline profile arrived a few days ago to all brand pages its effect still remains unclear. I already published two contradicting posts about the Timeline affect on users engagement: In one I discussed it drives less engagement and in the other that it drives more engagement.
It was only appropriate and maybe even predictable that a new fresh study will determine that the Timeline affect on the users engagement is neutral.
The new study, conducted by EdgeRank, is actually mentioning the other reports and claiming that they are misleading and confusing from their base as they have examined the engagement on the users News Feed, where the Timeline obviously has no affect at all.
Out of all reports and studies, I have to say that so far this is the most comprehensive research. It covered more than 3,500 brand pages from the two groups- Pages that switched to Timeline by March 26th ("Converted") and pages that didn't ("No Conversion"). The two groups engagement stats were compared to the page's stats before the Timeline for pages was launched (on February 29th).
The first thing the study has found is that the average Facebook brand page is suffering from a decline in fan engagement through time, whether if it switched to Timeline or not. Even though pages that switched to Timeline (-10.12%) have shown a bit smaller engagement decrease from pages that didn't switched (-11.57%), it is mostly attributed to the PR and exposure involved when major brands converted to Timeline.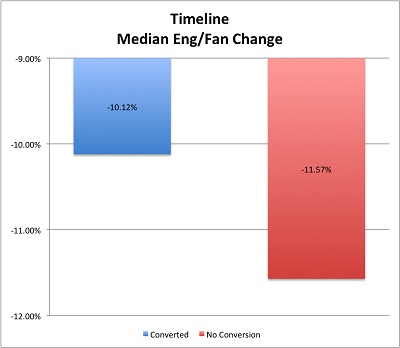 When dividing the two groups (Converted / No Conversion) for the percentage of pages that gained or lost engagement, we can see that the two groups stats remain very similar:
Pages that switched to Timeline (Converted)- 59% decreased, 41% increased.
Pages that didn't switched to Timeline (No Conversion)- 62% decrease, 38% increased.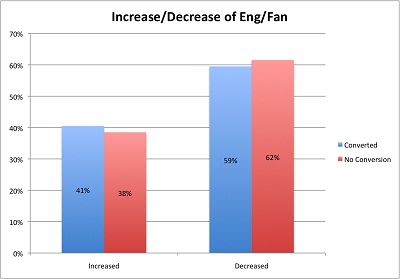 The study is basically concluding that the affect of the page's profile appearance (Timeline or no Timeline) is minimal, where most of the activity essentially occurs on the users News Feed and not on the page's profile. I have to say that it does sounds very logical.
My personal recommendation for Facebook page owners is to make their Timeline look appealing and professional, but not going crazy and exploit all the business resources (time, money, personnel) on the Timeline. There are much more important aspects, such as creating engaging content that users mostly found on their News Feed and not on the brand Timeline.