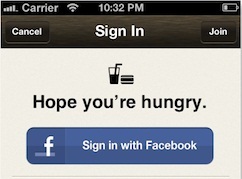 When Facebook's IPO documents released about a month ago, they didn't only revealed how much the company is actually earning, its shareholders and how many active users it has in total. They also revealed how gigantic is the social network mobile community (425 million users).
Although Facebook still hasn't found a way (more accurate to say didn't try yet) to monetize this mobile potentially gold mine and even expressed its concerns about it, that doesn't stop the company and its developers to show off how successful the mobile platform is.
Just as Facebook's head of mobile developer relations, James Pearce, bragged on Friday…
In a post at Facebook Developer Blog, James published very interesting information and stats about how Facebook mobile platform is feeding (I also accept nourishing) third-party company apps and games in general and also through some specific amazing success stories.
According to Pearce, Facebook is responsible for delivering 60 million unique visitors to apps and games each month, which generated more than 320 million monthly visits in total just in January. To demonstrate how powerful it is, he brings few vivid examples of apps that benefits from Facebook mobile platform:
BranchOut app traffic has grown 20 times more since the beginning of the year to more than 350K daily visitors these days.
Wooga's mobile game, Diamond Dash, receives more than 1.9 million visitors each month from Facebook, three times more as much daily traffic since it has integrated with Facebook.
Foodspotting enjoyed 3x jump in total visits and social activities (no number disclosed).
The personalized news contents apps of the The Washington Post is getting more than 10 million visitors every month.
As for desert: Yahoo News mobile app traffic has jumped by by 350% just in the past two weeks to 1.6 million daily visitors.
Even though Pearce didn't mentioned it in his post, I also wants to add to the list Digg which posted couple of days ago it enjoyed a big increase in page views derived from a 67% jump in Facebook's referral traffic to its Social Reader app.
Don't be mistaken to think that this post was just an act of arrogance. It had a clear purpose to allure more developers/companies to develop and to integrate their own mobile apps into Facebook mobile platform, as Pearce simply states: "We encourage you to explore these opportunities for your own apps."
With these kind of statistics we can't really argue, don't we?