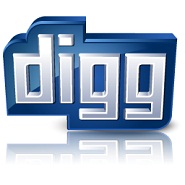 I still haven't completely acknowledged the possible comeback of MySpace and now another seemed-to-be-drowning social networking site has announced on some major recovery in traffic. If you didn't get it from the headline, I am talking about the social news aggregation site, Digg.
Digg's software engineer, Will Larson, has released a post in Digg blog yesterday where he reveals that Digg benefited from a 35% page views increase in January, which lifted the site to its highest levels since October 2010. This lifeline is being mostly attributed to a 67% rise in Facebook referral traffic.
But before getting into the reasons for the increased traffic from Facebook, it is important to understand that more page views doesn't necessarily means more visitors, but it may point out on rising in users engagement. Personally, I didn't managed to confirm any significant jump in visitors (by checking with Alexa, StatCounter, Quantcast, Compete and Google Trends).
As for the growth in Facebook's referral traffic- Back on December, Digg launched its Social Reader app for Facebook that allows sharing stories on Facebook while the app is also integrated with Facebook Timeline profile. As it turned out, the app was a great success story. And Digg is desperately needed the win.
For over the last two years or so, Digg's traffic has shrunk by about half while on the meantime its biggest rival, Reddit, has grown immensely. Does the Facebook app will be what will bring back Digg to its glory days? We'll have to see if the page views rise will go on in the next few months and accompany by meaningful increase in visitors as well to determine it.
As for now, we can enjoy some of the stats and data released by Will Larson about people's reading and sharing trends. Interestingly enough, not always there is a correlation between what people read and what they prefer sharing. For example, although 10% of what people read are political-related stories, less than 2% of the stories being shared are political.
In any case, the top shared stories category is technology with 49% out of the total shares followed by offbeat stories (20%), world news (9%), business (8%), lifestyle (5%), entertainment (3%), science (3%), politics (2%) and gaming (1%).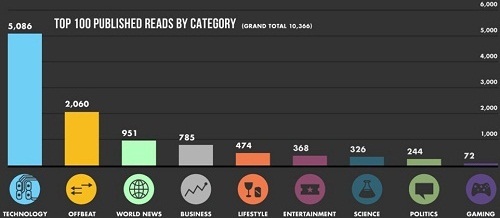 Digg also provided a look about the top 10 shared stories in January:
PIPA support collapses with 13 new senators opposed
The best iPhone and iPad apps you missed this week
Mythbusters hosts Jamie Hyneman and Adam Savage and their mini doubles
Jack Dorsey: Twitter not really social
15 years on nothing but chicken nuggets
Top 5 objections to SOPA, PIPA
Google will protest SOPA using popular home page
Apple launches iBooks, 2 digital textbooks
Google says: "Don't censor the web"
How and why Anonymous took down the FBI's website