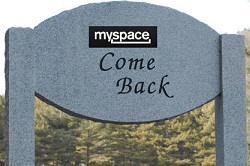 Once upon a time, there was a young social network that threatened to change the whole internet landscape. No, I am not talking about Facebook, nor about Twitter and certainly not about Google+. I am talking about MySpace, which never managed to live up to expectations (just ask Rupert Murdoch).
But is it really game over for MySpace?
Apparently, not yet. The company has announced in a new press release that they have managed to attract more than one million new users over the last 30 days (since mid-January) while the social network now drives 40,000 new user account registrations each day on average (1.2 million monthly). Pretty impressive for a social network that considered slowly dying just until recently…
MySpace is attributing its relative success lately to its new music player that launched in December and to its musical features which holds a gigantic amount of free music- According to MySpace, it has 42 million songs, the largest music catalog on the web. Here's what MySpace CEO Tim Vanderhook had to say:
"The one million-plus new user accounts we've seen in the last 30 days validates our approach. MySpace is building meaningful social entertainment experience around content, where consumers can share and discover the music they love. Consumers are getting excited about MySpace again – a testament to a great music product."
I think that it is a little mistaken to relate the stabilization (I find it difficult to call it a rebound yet) of the social network only to its renewed music player. Sure, it probably has a big part in it, but we need to look at it from a much wider perspective. The whole MySpace approach has changed since the Vanderhook brothers and Justin Timberlake bought it from News Corporation for $35 million in June 2011.
Instead of competing in the social networking arena as a traditional general social network, the company began to rebrand itself as a music-niche social network while even adding a Facebook Connect feature, something that it certainly couldn't afford doing when it perceived Facebook as a direct competitor in the past.
Although we can't determine at this point in time if indeed its a comeback and whether Justin Timberlake can sing "What Goes Around, Comes Around" or "Cry Me a River", the new MySpace's stats are surely a good sign that the social network might managed to at least stabilize its huge drop.
Time will tell if the $35 million investment were a glorious bargain opportunity or maybe should have spent on another social network shares…